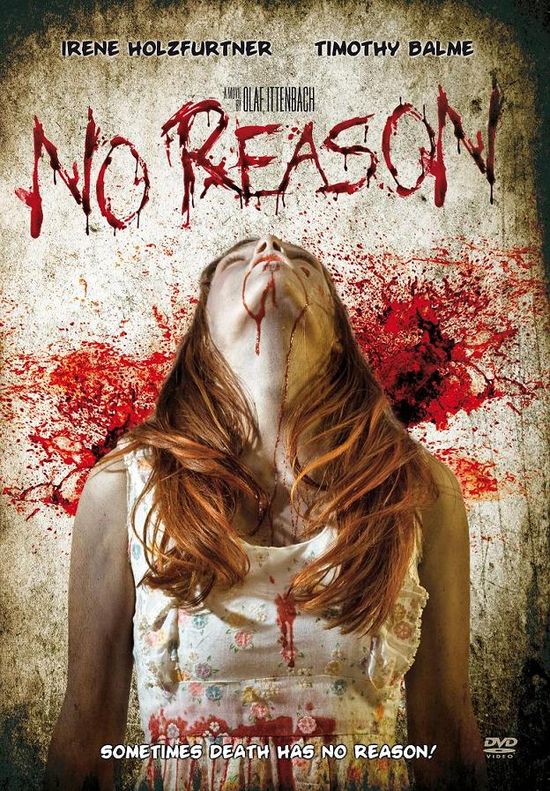 Year: 2010
Duration: 01:16:35
Directed by: Olaf Ittenbach
Actors: Irene Holzfurtner, Matthias Engel, Alexander Gamnitzer
Language: German(English subtitles)
Country: Germany
Also known as: Not available
Description: To relax a little and overcome emotional shock from unpleasant news leaning on it overnight, Jennifer decides to take a bath, and immediately falls asleep in it. When she wakes up, then horrified to see that is on the floor in his apartment, all in blood, and surrounded by the dismembered human bodies…
Review: The film "No Reason" is a brutal trash in its pure form, as the saying goes – senseless and merciless. In addition, more seasoned and a fair amount of surrealism, which generally creates a totally vague, incomprehensible and monotonous mess with a demonstration of cutting and biting members and other tortur very perverse nature.
It is very difficult to say what he wanted to say his film Olaf Ittenbach (Beyond the Limits and Family Saga movies), it's not so simple as it might seem at first glance. The funny thing is, perhaps, the film is that for all its abnormalities and idiocy, because in the picture there is really nothing interesting and meaningful, but to a brutal dismemberment, all this meat grinder nezdravoy director is very hard trying to make some sense, and not just rationalism and philosophical something that looks so ridiculous, clumsy, and just out of place, causing only compassion and pity for the author of this bloody bacchanalia.
Among other things, there is not a drop of originality, very much is taken as the basis of Western films on the theme of dismemberment, that's only if you take even a "Saw", where all the cruelty and torture to be meaningful, it is logical to have been built and had a moral character, is really what is happening and to make sense morality, the "no reason" is trying very hard to imitate it, but relies on naturalistic outright brutality without censorship, which is the average uninitiated viewer will cause a shock, disgust and nausea, but in reality is nothing original in this, and try to impress those both during the blow job dick Madame bites and other kinds of violence only shows imagination and avarice complete lack of taste.
The only thing that I can find the positive in the film – the naturalism of all these distortions. Despite the miserable cheapness performed all very colorful and juicy, looks very believable and convincing. Deserves the attention of fans of such gravity scene in the cabin, which hosted the bloody orgy – shot put and was very impressive.
What can be said to result. We comrade Olaf obviously serious mental problems, obviously. The film No Reason is cheap, pathetic, stupid, insipid and stupid. Actors are just miserable, well, the chief butcher in a mask ala the Cthulhu and the voice of the toilet – it's ridiculous. I can say only one thing – there is no reason to watch this movie.
Screenshots:
Download: