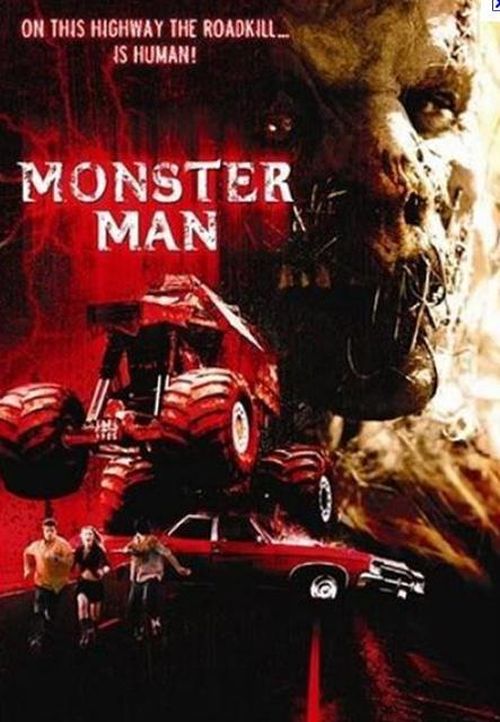 Year: 2003

Duration: 01:31:29
Directed by: Michael Davis
Actors: Eric Jungmann, Justin Urich, Aimee Brooks
Language: English
Country: USA
Also known as: Camino hacia el terror 2, Odigontas ton tromo
Description:Adam and Harley go by car to the wedding of their classmate. On the road, friends picked a fellow traveler. As long as it turns out, who would become her boyfriend during the trip, some freak mutant kills nearby people, someone he deprivea of limbs. Exiting on Highway 55, they found that the monster catches up with them on a huge car, driven by someone sitting in whose eyes burn hell. And a race to the bottom begins, where the loser dies …
Review: "Monster Man" – representative enough low-budget, but they are not less quality horror films that will be remembered for a long time after they are released to the screen. Recipe by which to make this film is quite simple – to take an idea from the "road horror – movie", another – from such masterpieces as "Wrong Turn" and create it – that, if not glitters on originality, but rather – still direct.
Issued and served by the film perfectly. Its unique atmosphere of the American heartland, its colors and its, still quite unusual humor – that's what this film is endowed. Each frame appears in public – that turbid pale colors, but they do not interfere with the story, but rather complement the overall atmosphere.
Directing the film is also high. All filmed properly and clearly. We would also like to praise chase scene that played competently.
Camera work also did not disappoint. No shaky camera, no cut corners, all at the right level. A true example of how to fit into a dedicated (albeit small) budget!
The acting is good. No replays, no nedoigryvaet, all is well. Jokes, which is released by the main characters throughout the narrative rather ridiculous.
Blood and meat are present, too, so that fans of the massacre film's taste. Also, he looks pretty impressive maniac. It really is scary, it's very original. Besides – the same – his main murder weapon – is his great car that is really only as a road monster will not name.
Review #2: Monster Man – this is one of those films that makes the viewer or admire, or turn off the TV. Personally, I was very interested in this creation, as there are sustained all the traditions of horror films, and at the same time was a place for comic inserts that maintain the balance between "terrible" and "ridiculous." There are also elements of thrash.
The plot of the film is very simple and straightforward. Horrible monster rides on his hefty Jeep on the highway and killing people, and the main characters are very well caught him by the arm. Well then start the chase, the "game of hide and seek" in different hotels and gas stations, and more, as it should be … Still I liked the atmosphere and the Texas. In general, do not get bored.
I would add that has not prevented a modest budget to create a quality film director. Such tapes – a rarity. Personally, I think that the "road beast" could stand on the same level even with the famous "Evil Dead", if the film appreciated …
In short, the "Monster Man" – a great gum-horror with a fascinating process, again in my opinion. I advise everyone! Maybe you'll like as well as I do
Screenshots:
Download: