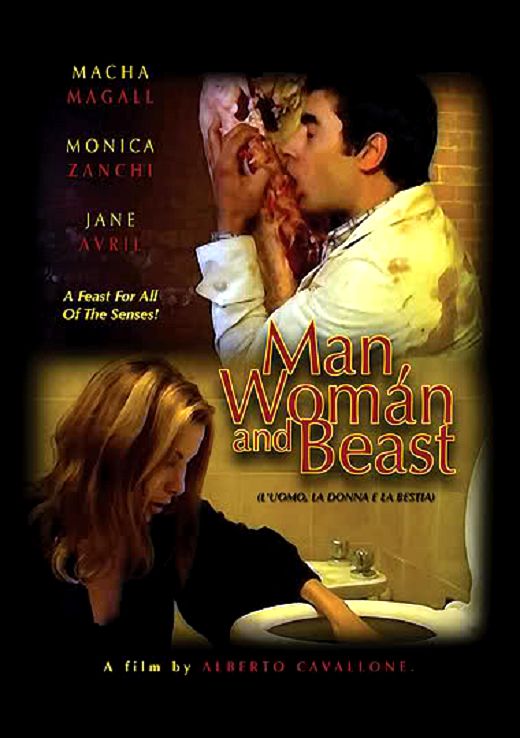 Year: 1977
Duration: 01:39:21
Directed by: Alberto Cavallone
Actors:  Maria Pia Luzi, Martial Boschero, Angela Doria
Language: Italian (English Subtitles)
Country: Italy
Also known as: L'uomo, la donna e la bestia – Spell (Dolce mattatoio), L'uomo, la donna e la bestia, Man, Woman and Beast, Spell (Dolce mattatoio)
Description: Local festival in a small village is the reason for its residents to releave lurking and unbridled passions. All participate in the great orgy: a Communist copulates with his crazy wife, married farmer with a frigid woman, a prostitute with the authorities, father is having incest with his daughter, owner of the butcher shop with a bloody carcass. And then out of nowhere who undertook a tramp …
Review: Two years before the "Zelda" in which a sexy surrealism Alberto Kavallone reached his peak, the Italian took a picture, perhaps as a landmark for themselves. And just as openly defying public opinion in terms of "pure art." However, in the second half of the 70s, to such "challenges" no one paid any special attention, so that the work of Signor Kavallone not caused any fuss, and after only a few years old maestro was seen writing a script for a completely pointless fantasy trash «Ironmaster ".
However, so discard it in the direction of artistic heritage director, I would not, if «Blue Movie» seemed pretentious fluff, the «L'Uomo, la Donna e la Bestia» on the background looks much more adequate. Although there Kavallone still not as sure of his audience, and a constant reminder to all that is happening on the surreal to the screen annoyingly pop in the frame reproduction of Salvador Dali. Like, I'm just a wannabe of a great artist, and video series, you see – just a reflection of my subconscious. But in the unconscious, as Freud taught grandfather, those still lurking sexual monsters.
Here is their something Alberto Kavallone and pulls on the godless world, like in the session the analyst. It is not difficult to guess that the film's central image – surrealist artist, director portrayed himself. By day he is a respected local branch secretary of the Communist Party, and in the evenings is crazy collages, inspired by works of Dali in the company of his crazy wife.
Accordingly, all the people around him are seen as the protagonist in his own mind a distorted form. They each have over external decency just have to hide in the closet the whole hosts of skeletons rattling bones are beginning to fall out from there during village festivals. A catalyst of these events is a phenomenon in the forgotten gods province unnamed boy, who by its very happily blows during unhurried local life.
By the way, many of the shots «L'Uomo, la Donna e la Bestia» evokes scenes from Fellini "Amarcord." And, certainly, this is not accidental. Like his hero, the artist, is a perverse Kavallone like collage, transforming images into something Fellini himself opposite, dirty and shameful. Like the head of Lenin, peering between female thighs (one of the film's obsessive images).
Screenshots:
Download: