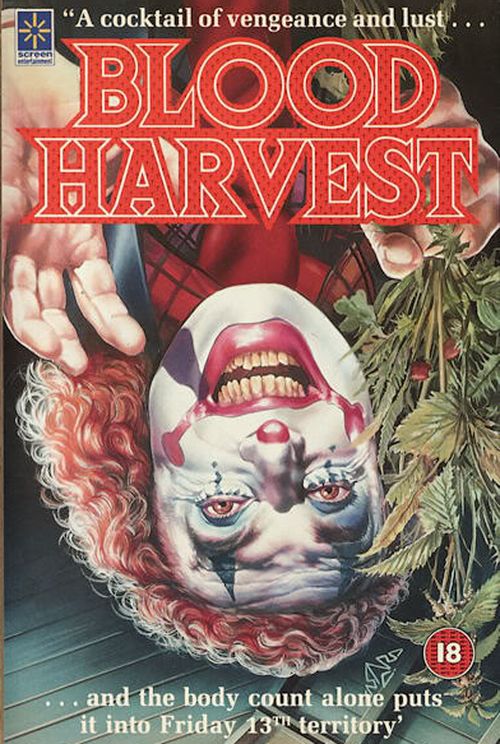 Year: 1987
Duration: 01:26:32
Directed by: Bill Rebane
Actors: Tiny Tim, Itonia Salchek, Dean West
Language: English
Country: USA
Also known as: The Marvelous Mervo
Description: 
Tiny Tim is kneeling at an alter, weeping, and covered in clown make-up. You've been waiting your whole life for a scene like this. Hold that thought.
The late Tiny Tim was in Wisconsin for a beer tent carnival appearance during the summer of 1985. He probably performed an updated version of "Tiptoe Through The Tulips" with a drum machine and saxophones. Cracked Wisconsin filmmaker Bill Rebane (The Giant Spider Invasion, Invasion From Inner Earth) was in the audience. Inspiration struck. A deal was made. Elastic pants were purchased. Greasepaint was applied. In a few short months, Blood Harvest aka Nightmare was shot in Lincoln County, Wisconsin and completed.
Please. PLEASE. Please hit the bathroom before attempting to watch this film. As any well groomed member of society knows, shitting your trousers can be a very delicate situation. You'll thank me later.
Jill is home from college. After foreclosing the mortgages on several private properties, her parents (they own THE BANK) have disappeared. The family's home is the victim of graffiti and hilarious obscene phone calls. Gary, Jill's childhood friend, is in love with her. He also has a brother/one-man-play named "Merv," "Mervo," or my favorite, "The Magnificent Mervo." That's where Tiny Tim comes in; a bloated, smelly man-child in a satin stretch suit and flannel shirt, spewing songs and reciting sloppy Holy Mary's. Jill bares it all quite frequently. At this point, you can probably just think up anything and pretend it happens. A pessimist sheriff in a softball uniform. A survivalist killer with a polaroid fetish. A bloody refrigerator. It's all fair game. By the time Gary strips to make love to an unconscious Jill, the upside-down bodies in the old shed'll seem like greasy kids stuff. I hope.
Joining the ranks of Doris Wishman's ridiculously strange A Night To Dismember, Blood Harvest will knock you flat. It's not enough that Bill Rebane called an about face on his typical PG themed endurance tests, filling this film to the brim with exposed breasts and klutzy gore. Nope, he had to exacerbate us even more, throwing in the hideous Tiny Tim, meaningless religious motifs, and trunkfuls of dumb ideas that never tally up. All presented with thick Wisconsin accents and random edits; a benchmark of Rebane's particular brand of flair. Then it hits you.
When the laughs die down and the tame-yet-unsettling depravity takes over, Blood Harvest makes the transition from goofy trash nonsense to dirty-ass shocker. The gross shag carpet, the killer's brutal antics, the "assumed" innuendos…everything points to an underbelly of perversion that nicks your nose just enough to make the room smell uncomfortable. It's almost too much for one sitting. Good thing you made a pit-stop beforehand, huh?
AUDIO AND VIDEO
Released in 2002, Retromedia's full frame "director's cut" of Blood Harvest (here titled Nightmare) is heavy on the glorious grain and woozy colors. There's a little video rippling here and there, along with some strangely placed still shots and jump cuts. No compression noise was evident and the mono sound was hissy-fit perfect. Loved the newfangled PowerPoint credits!
A few months after its release, the DVD was pulled from stores as a courtesy, following a mix-up with the rights. When the issue was later resolved, Retromedia decided to sub-license Rebane's swan song instead of reissuing it. You can currently find Blood Harvest (again, as Nightmare) on Brentwood's "Psychotic Tendencies" 4-pack. Retromedia's DVD will remain deleted forever.
Screenshots
Download