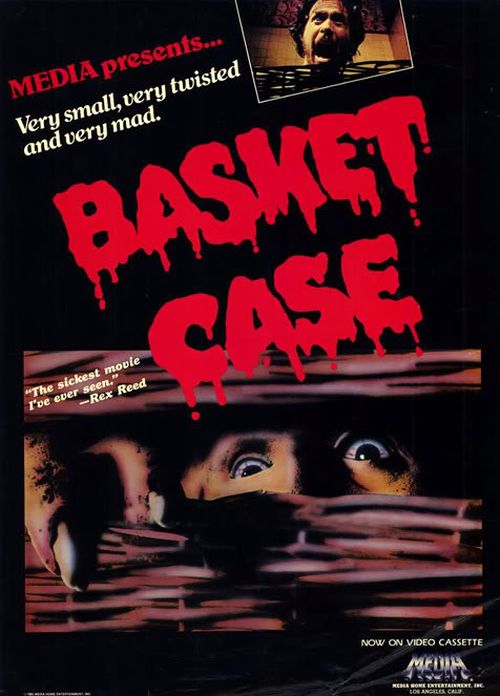 Year: 1982
Duration: 01:31:03
Directed by: Frank Henenlotter
Actors:  Kevin Van Hentenryck, Terri Susan Smith, Beverly Bonner
Language: English
Country: USA
Also known as: Το Καλάθι του Πικνίκ, Basket Case – Der unheimliche Zwilling, Basket case (¿dónde te escondes, hermano?), Frère de sang, Sepetteki ölüm, To kalathi tou picnic, Veriveljet, Wiklinowy koszyk
Description: Not everyone knows that the Siamese twins might be not only people but monsters. Dyueyn Bradley – ordinary man and Bilayl Bradley – slippery, nasty creature with human-like head – hip. The attempt to separate them spawned a series of bloody crimes committed by evil demon Bilayl. But this is only the beginning. Bilayl preparing to become a father …
Review: This picture of an ugly thing, hiding in a basket, already spotted quite a while. Especially would like to highlight the glaring poster, which is a little sticky stuff pulls the monstrous gorilla arms directly to the viewer. Well, tuned to Action kryshesnosyaschy and trash in the spirit of "Living dead bodies." In reality, the film turned out quite calm and adequate or what?
So, despite the fact that all these "clay" special effects look now some funny and ridiculous, the whole picture looks a bang, visual filth are fairly decent. But, I can not say that I felt a bust with bloody attacks this monster, all more or less harmoniously. Although not even know I could perceive the movie, because I had a bunch of revised every sheet to pohlesche this film. Needless monster turned quite nasty and horrible, though primitive by today's standards make up. Gray toothed humanoid slime with hands, not speaking a word, but who is able to scream like mad wild animal. In general, I had mixed feelings of being: on the one hand, it looks very very places such as artificial, and sometimes really very disgusting and sickening, especially when howling hysterically from discontent. Ugh, I remember those moments, immediately becomes frustrating! But I was amused by episodes of this "pool" crawling. There was a sense of discontinuity rate and a "toy", artificiality movements that carried a monster. But probably for the 80s was shot pretty well!
What surprised and pleased me, it's the idea that a movie is as follows: a never-ending love, compassion, devotion to a close you are literally the body and spirit to the present, in spite of his appearance! There's also dealt with issues related to who, in fact, is a real beast: a bloodthirsty monster who can not be blamed for the fact that he was born that way, or indifferent people who want to get rid of the ugly "something"? I immediately had a feeling of complete hopelessness of such a situation, the absence of a positive outcome, because the monster can not be everywhere and with a drag and be noticed (which, in fact, the movie's plot and confirm), or destroy it, but then it would be a great tragedy for brother , because with this creation they have developed a mutual emotional connection, and everyone is able to feel a sense of the distance of each other.
Themselves moments of violent attacks here not so much, and, in my opinion, most of the film makes the viewer terrified above the humanoid creature, his life and the tragic fate of a person close to her. Difficult life unfolds the story of two brothers who were born conjoined twins, one of whom looked quite healthy and appropriate person, and the other – a strange nasty process with hands and apparent developmental abnormalities. The viewer will show even a decent piece of the past, to learn about childhood conjoined boys, and how they decided to split. I was shocked why the operation so long held out that Dwayne was in the age when clearly understood everything that was happening around him. Of course, on the one hand you can blame his father in his cruelty and indifference, given that it was he who initiated the separation. But I still think that the only operation on the separation was the only solution in this situation, though it should have been done when they were just born! And as if this was not sorry for being in the sense that it is alive and it is kind of like a brother Duane, in fact it turned out that it is unable to think properly and mentally deranged monster who can only commit a terrible murderous violence the offenders so arrange hell tantrums. I do not want someone to seem insensitive, but there it is. I think that, perhaps, it was necessary to immediately isolate and destroy the monster in its infancy, as it is cruel not sound. Moreover, that this thing had to do with the death of the mother! I understand the feelings of the angry and embittered at the time my father! On the other hand, I've been thinking, maybe this being before the operation and was not as evil demon, and after was a real monster, and the doctors are to blame for this? In general, just do not know what to think. In any case, the initial accreted as fate would have both had just ruined, and one child had a chance at a normal life!
Looking at such a "clean", good-natured and sweet protagonist, it seems that the vile monster is not his brother, as if separated from his evil nature, a terrible process, Skopje from a Duane all existing negative, the bad and the devil, that only can be: anger, aggression, jealousy, cruelty. Frankly speaking, the history of the division tempting to certain reflections, but later this monster no sympathy or pity do not feel. True, I liked the fact that there is practically no senseless violence, and all the murders committed vile offspring will have their reasons for it!
Still would like to mention acting. In my view, it is amazing here, and thanks to her film can also be counted among the comedy. Each appears on screen character was expressive, very bright, rich, unique. Heroes as if on purpose, on the idea of ​​the director, are replayed a little, a little provocative, a little comical and provocatively, and most importantly – not boring! I was particularly impressed by the reaction of one of the girls, who saw this monster! This one was amazingly realistic fit, the real and stunned! If I were in her place (ugh ugh, God forbid) would do all night screaming in shock and shaking with fear and loathing wild! Also, some of the scenes seemed to me quite hilarious! For example, when a monster suit any unrest in the hotel and resort owner, to check what had happened, and then all dispersed.
Summary. Basket Case is a pretty good visually frightening horror of the little monster slizneobraznogo polucheloveka showing terrible tragic story of two conjoined twins. Very reliably show genuine love and concern for his brother to cut off its ugly essence, which hardly can be called a man, but rather his diabolical bloodthirsty half, which has absorbed all the bad things that could be Dwayne. Special effects, of course, now look very primitive, but in the whole place called truly vile slimy feeling, let alone for 1982 is generally very good indeed! Personally, I am shocked at this painting is a nightmarish situation, the plight of the hero, which is not seen as a positive outcome! I think "Being in the basket" deservedly can deliver:
Screenshots:
Download: