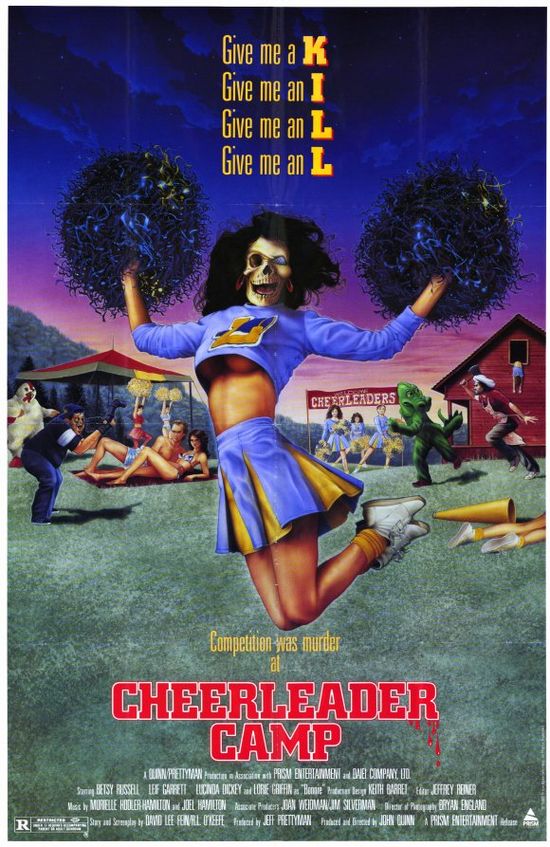 Year: 1988
Duration: 01:30:00
Directed by: John Quinn
Actors:  Betsy Russell, Leif Garrett and Lucinda Dickey
Language: English
Country: USA
Also known as: Bloody Pom Poms
Description: A small group of teenagers come to the summer camp «Hurrah» on the All-American cheerleader contest. One of the girls, Alison, strained relationship with her boyfriend, whom she had always suspected of treason and highly jealous, and a huge lack of confidence, which results in a series of bloody of surreal nightmares. Literally, at the first day in the camp Alison discovers the corpse of penetrated their veins girls, and from that moment the life of the camp begins abruptly changing …
Review: Loverss of the girls cheerleaders will be happy. Slasher "Cheerleader Camp" with some comedic elements will please the viewer not only humor and beautiful girls, but spectacular and bloody murder, as the effects are made from a visual point of view, very good.
Fans of "Saw" recommend this movie to look for a young Betsy Russell, who played the main character is the film Avenging Angel. It is best revealed his image, playing just great. However the main actors in the film also quite picturesque and vibrant. Remembered by many people, but not all. Acting is not a good level, but high skill is still far away, clearly shows a lack of experience in the films of this genre. Still, attempts to reveal the acting talent worthy of respect.
The plot of Cheerleader Camp is fairly simple, which is a typical slasher camp, sending every now and then to other films, earlier. For example bear suit – big hello film "Girls disappear", the scene in the stock with the discovery of the corpse is similar to one of the parts of "Sleepaway Camp." The scene with the night running around and entangled in the branches of a tree hair – an obvious reference to "Texas massacre" Touba Hooper. Of these components and the total citations and interwoven plot of "Camp cheerleaders", supported by quite interesting line of assassins. But guess the real killer is not quite difficult, puzzles and special shock there, but overall very well thought out.
Screenshots:
Download: