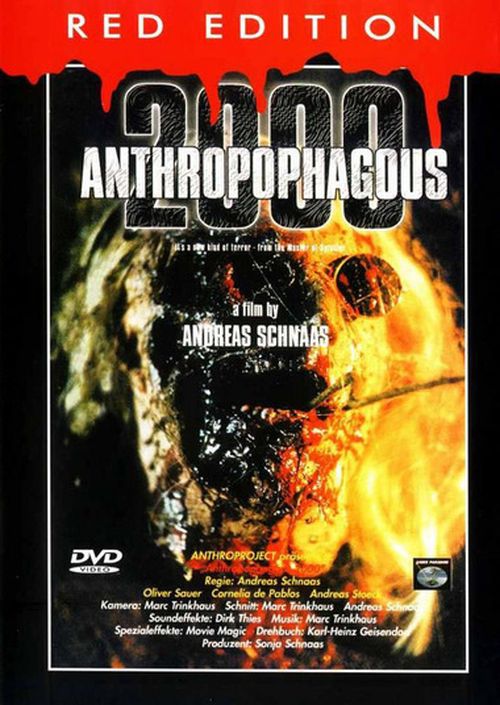 Year: 1999
Duration: 01:16:52
Directed by:  Andreas Schnaas
Actors:  Achim Kohlhase, Andre Sobottka, Dirk Thies
Language: German (English Subtitles)

Country: Germany

Also known as: Anthropophagus 1999: Devil; Anthropophagus: Resurrection; Anthropophagus: Year Zero; Blood Orgy; Cannibal 2000; Grim Reaper X; L'anthropophage 2000; Man Beast 2000; Man Eater 2000; O anthropofagos 2000
Description: This is Andreas Schnaas (Unrated: the Movie and Goblet of Gore) remake of Anthropophagus (Man-Eater, Grim Reaper) and a posthumous homage to Joe D'Amato. The result is in my opinion one of the best horror remakes ever, and I don't mean it in a cheezy way. Well scripted, good pace, decent acting and overall a very respectful adaptation.The gore is awesome, great gags, creative kills and all in all the violence in this is pretty vicious, the fact that it's not gore for the sake of gore and there's decent story and a pace for the kills actually makes the brutality stand out. 90% of the following gore screens are taken from the very first kill (one of my favorites in modern sleaze history, that kill is incredibly mean), so plenty left to be enjoyed.
Review: A group of tourists traveling by boat, gets on a small Greek island. They find a deserted and abandoned village, which houses poluobglodannoe human body. Terrified tourists decide to return to the boat, but the tide took the ship away from the coast, and can not get to it. They have to stay in the village for the night, and they still do not know what got into the territory of a man-eating killer …
Andreas Shnaas, a great connoisseur of Italian school horror (among favorite directors Lucio Fulci and Joe D'Amato), after the third part of his famous "hit" "lawlessness" (although in the original movie called "Bloody Shit!"), Decided to make a remake of "cannibalism "Joe D'Amato, and even dedicate it to the memory of the famous horrormeykera (D'Amato died two months before the movie remake Shnaasa). Even given the poor quality of his previous films, we can not resent his so-called remake, for "cannibalism 2000" is more like a foul libel on the masterpiece D'Amato than homage. Disgusting actors (especially the female staff), physiological nightmarish scene, the complete lack of atmosphere and suspense, little peeps story (and this despite the fact that Shnaas trying hard not to depart from the original!). In this picture is quite visible that the difference between the atmospheric, clever and stylistically exquisite horror of European schools and crude attempt to mount German craftsmen to create something like a horror movie. Most disgusting thing in all this is that the German horrormeykery hold the viewer for the bloodthirsty zombies or maniac butcher, like Karl, who will be quite enough removed roughly a cheap digital camera scenes of sadistic violence and a pair of naked prostitutes cheap brothel. The new version of "cannibalism" are all just what happens. Murder, a little chatter about anything, sex, murder again, even a little bit of chatter and sex and murder again. And as erotic scenes shot Shnaasom, nothing but disgust can not cause, for girls and terrible (worse even cannibalism, which is, of course, the very Andreas Shnaas) and shot terrible.
Screenshots:
Download: