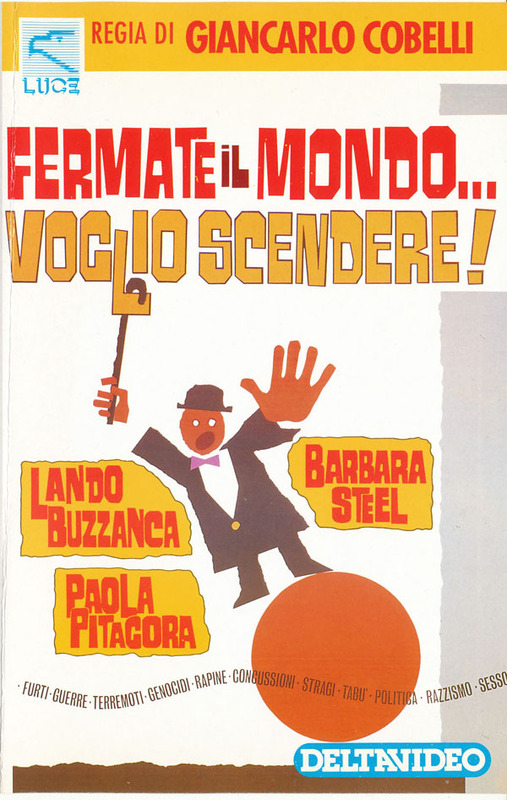 Year: 1970
Duration: 01:30:12
Directed by: Giancarlo Cobelli
Actors: Lando Buzzanca, Paola Pitagora, Barbara Steele
Language: Italian
Country: Italy
Also known as: n/a
Description: 
I can't find better words to briefly describe this strange italian flick from 1970. Try to imagine an "underground" movie from late 60's done with decent budget and with the help from many big wheels of professional film-making (cutting room star Franco Arcalli, light director Dario Di Palma, soundtrack master Piero Piccioni), not to mention the cast that includes many favorites (Barbara Steele, here credited as "Steel", Umberto Raho, Lando Buzzanca, Paola Pitagora, Laura Betti).
The rather thin plot is about some young protesters living together in a sort of "commune" in Milano. One of them (Buzzanca) has a ventriloquist ability, and through this he is signed by national TV becoming in short time a superstar in commercials aimed to kids. One by one even his "communard" friends leave the protest and enter the business world, except one….
Director Giancarlo Cobelli was the "Chief" character in Roberto Faenza's "H2S" and the two movies share some similarities but here a sort of madness travels all around, like in an acid trip (and in a sequence some characters do ingest some psychedelic drug!). Like early Mothers Of Invention recordings, anything here can happen at any time….
The actors seem to play in a state of frenzy… no one is talking: everyone screams, or mumbles, or rants.
Cinematography is very inventive, editing very fast, and satyrizing the commercial breaks world "Fermate Il Mondo…" predates its language by a couple of decades.
Barbara Steele screams, get slapped, even tries to hang herself with an ostrich-feathered slipknot, and she's never been so gorgeous in the frequent close-up shots.
I'm not really sure that understanding italian language helps enjoying this movie…
Screenshots:
Download: