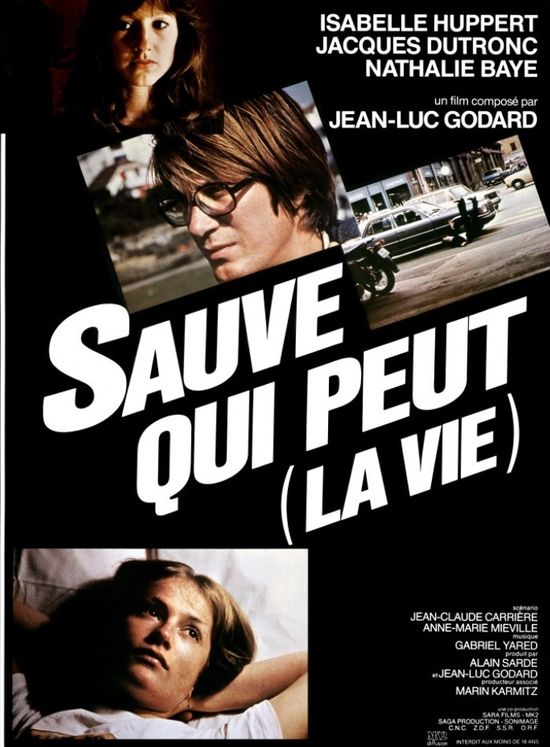 Year:1980
Duration:01:28:17
Directed by:Jean-Luc Godard
Actors: Isabelle Huppert, Jacques Dutronc, Nathalie Baye 
Language:French
Country:France | Austria | West Germany | Switzerland
Also known as: Sauve qui peut (la vie),Salve-se Quem Puder,Salve quien pueda, la vida,Pelastukoon ken voi,Slow Motion,O sozon eafton sothito,Mentse, aki tudja (az életét),Si salvi chi può (la vita),Ratuj sie kto moze (zycie),,Salve-se Quem Puder,Every Man for Himself,Rette sich, wer kann (das Leben)
Description: The plot of the film is difficult to be considered as a whole, it is better to consider how the storyline of the main characters.
The first storyline is the story of Paul Godard, a filmmaker and a divorced father. As is clear from the name, this character – a kind of alter ego of the author. And to what extent, Jean-Luc Godard this character makes fun of himself, enough to quote: "I make movies to have something to occupy yourself, would I have the strength to do nothing I would do nothing. Because I have no energy to do nothing, and I make films, no other reasons…".
The second storyline is dedicated to Isabella who is a prostitute for customers with "special requests". She wants to move to the city and therefore quietly satisfies the desires of their clients and concurrently teaches her sister to prostitution. Through this character, Godard shows the market relations which become more and more mechanized. This is reflected in the "sexy" scenes, in which there is not the slightest hint of feeling and desire.
And the last storyline is the story of Denise, a worker of television and girlfriends Sex. Conversely, it quits his job and wants to go to the village. This character can be described as "transitional" between the two eras.
Screenshots
Download