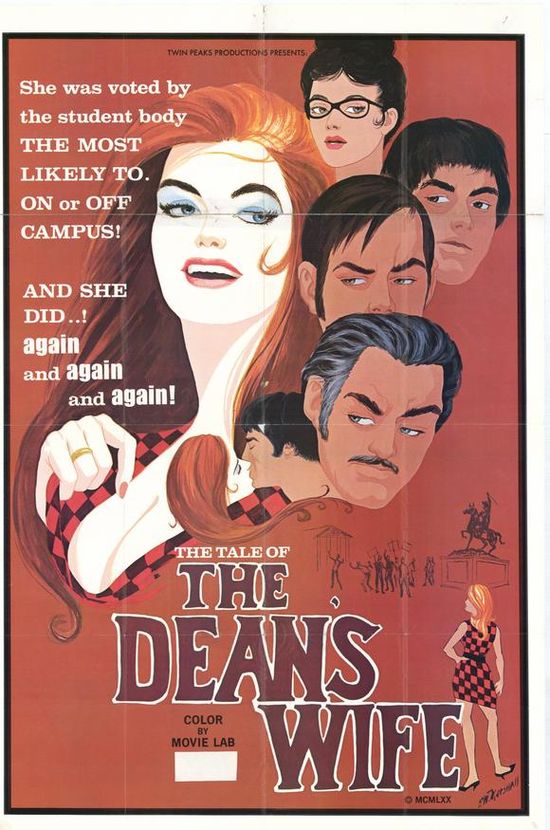 Year: 1970
Duration: 01:02:18
Directed by:  Benjamin Onivas 
Actors: Luanne Roberts, Roger Gentry, Edward Blessington
Language: English
Country: USA
Also known as: De heta famntagen
Description:
A crazy college protest themed sexploitation film with copious amounts of nudity and softcore writhing. Produced by the same person who did the movie adaption of Kenneth Anger's Hollywood Babylon apparently. Several familiar faces pop up, like Luanne Roberts/Christine Murray, Robert Gentry, and the Love Butcher himself, Eric Stern, in a fantastic performance.
Wow, what a movie! A college protest group meets in the woods to discuss a list of demands to present to the dean, and also to smoke pot and couple up by pulling names out of a guitar. Dean Walker refuses to negotiate with them, so they dose him with acid and arrange an impromptu orgy at his house, photographing the whole thing for blackmail purposes.
On top of this we have the titular Dean's Wife, who's already banging members of the student body and the maid. Even crazier, a perverted fellow professor, played by Eric Stern shows up with his wife. After the Dean goes out to buy eggs, Stern takes about two minutes to whip out his belt and shows Mrs Walker the joys of S&M. Stern's frenzied performance is one of the highlights of this absolutely nutso film.
Naturally the blackmail plan doesn't go as planned the ending turns out grim as all hell. What a goddamn glorious example of late period softcore sleaze.
Screenshots
Download