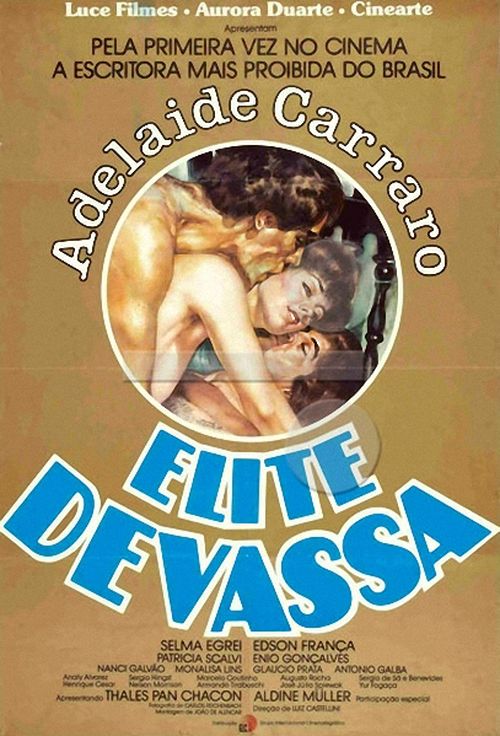 Year: 1984
Duration: 01:17:58
Directed by: Luiz Castellini
Actors: Analy Alvarez, Sérgio de Sá Benevides, Thales Pan Chacon
Language: Portuguese
Country: Brazil
Also known as: –
Description: A young man becomes the chauffeur of a wealthy woman. But it was not for his references that she chose him. She goes to work in a house full of women, all of them craving the young man. But there is something more than sex going on inside that house, has the revelation that other men before him have worked there and disappeared without a trace.
Filmed by director of Pornô! flick
Review: An apparently discreet erotic tale that only brings out the "goods" towards the end of the movie, being more concerned with the melodrama. That is, until it takes a turn for the crime thriller and becomes rather exaggerated to say the least. It is a curious story that could have been better used had it not been the need to produce an exploitation flick.
As it was mentioned sevreal times here, in  early 80's most of Brazilian popular film production was porn. Authors who were not keen into entering this sort of film, had to fight producers and distribuitors and add wahetever they could to attract people to their films. As people wanted to see sex, some movies came very close to porn.
It's the case of this film, Elite Devassa (Lustful Elite), which tells the stor of a country biy who gies to big city work as a driver but gets involved with sensual rich  women in a net of intrigue and lust.
It stars some of the greates actresses of the softcore genre in Brazil: Aldine Müller, Patricia Scalvi and Selma Egrei, among others. Another quick note: Elite Devassa uses Goblin music from Deep Red!!!!
Screenshots:
Download: