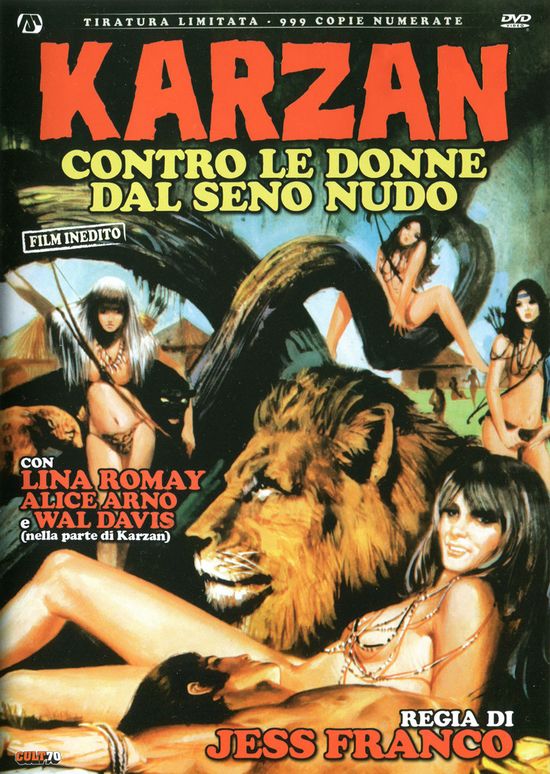 Year: 1974
Duration: 01:10:03
Directed by: Jesús Franco
Actors: Wal Davis, Alice Arno, Robert Woods
Language: French(English subs)
Country: France
Also known as: Maciste contre la reine des Amazones,Les amazones de la luxure,The Lustful Amazon,Flogeres Amazones,O hrysos naos ton Amazonon,Karzan contro le donne dal seno nudo
Description:Franco was clearly having fun here, on far less than the proverbial shoestring, aided and abetted by his stock crew of extremely immodest ladies of this era. Though not as arty or as (arguably) classy as the films that bookended his run of films for producer Robert de Nesle – made by more (shall we say) "prominent" international producers like Artur Brauner and Erwin Dietrich – the films of this period are looser (ahem) and downright playful. Franco fans will enjoy it…his detractors will find much to criticize. Budget, plot, continuity, suspense, action and drama are nonexistent. Absurdity abounds, and only Franco's staunchest admirers will think the "comedy" is deliberate. I loved it, both because Franco stubbornly elides orthodox filmic grammar and…well…for all the bare flesh on display! As legendary as Lina Romay has become in some circles, let's not forget Montie Prous and Kali Hansa, to say nothing of Alice Arno and Pamela Stanford! And no, this is not meant in the least to extend the manly/heroic legend of Maciste, except perhaps literally. Val Davis isn't quite as "pumped up" as a Steve Reeves, but he would be quite at home as a skinny longhair (just like me) in a film just like this. In other words, if you're looking for the popular myth, or even a cheap sword-n-sandal flick, this isn't the place. It does manage, in its playfully charming way, as the camera meanders and zooms and confounds genres, to be a pseudo-jungle adventure…albeit with the occasional costumes and music of a Renaissance Faire re-enactment, only less rehearsed. Plus, of course, lots of sex and nudity.
Related to the latter, it's amazing how Franco's camera always seems to find Lina's backside, fortunately for us…and I don't think she's ever looked better!
Onscreen title is "Karzan Contro Le Donne Dal Seno Nudo" and the IMDB lists a substantially longer runtime. I only wish it were true that there's another 15 minutes of this floating around somewhere!
aka "Golden Temple Amazons"…there may be an English dub out there, but this bespeaks "bliss" in any language.
Onscreen director credit is Franco's oft-used pseudonym Clifford Brown.
Screenshots:
Download: