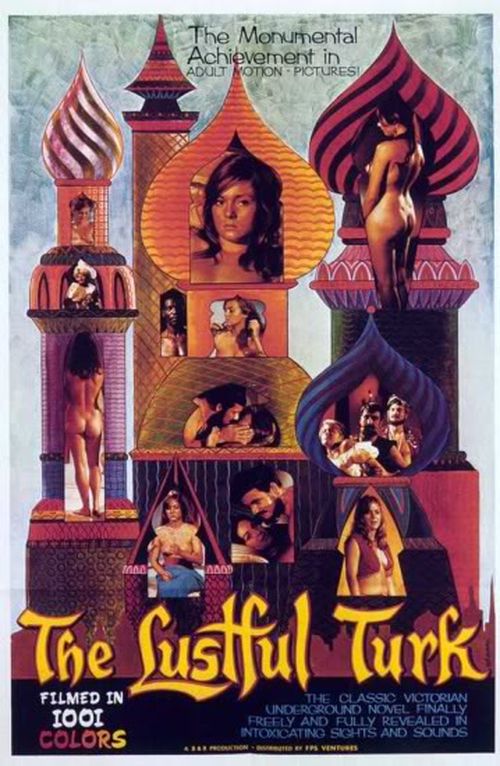 Year: 1968
Duration: 02:00:39
Directed by: Byron Mabe
Actors:  Abbe Rentz, Linda Stiles, Gee Gentell
Language: English
Country: USA
Also known as: The Lustful Turk
Description: 
You really have to offer DAVID F. FRIEDMAN credit. Compared to other nudies, his carnal costume epics stick out like a virgin at a sex club. In 1968, The Lustful Turk was the many costly adult feature movie ever made.
Hang on to your turbans! Despite the name, this isn't about New York cabdrivers. The Lustful Turk is wild and wooly depiction of life in an eighteenth century harem. It's the kinky activities of Emily (ABBE RENTZ), a blue-blooded English lass. She sets sail for India with her comely Eliza, handmaiden (HEIDI KRANE). While at ocean, they are girlnapped by knuckle-dragging Algerian pirates.
Virginal Emily winds up "the polluted concubine of a circumcised Turk."(!) The raghead's name is Ali, Bey of Algiers (TOM ALTO) whom "reduces her chastity to a bleeding ruin." Emily (who resembles Malibu Barbie) fights off the bug-eyed camel-jockey, but eventually falls under his spell. The Turk explains his unique views on "The Mysteries of Love" (speaking straight to the camera like on The genuine World). Emily's interests are awakened and she becomes addicted to Ali's go-go juice.
Meanwhile, bad Eliza is given away by Ali to his buddy Muzra, Bey of Tunis (FORMAN SHANE). Unlike Emily, she desires no component of her craggy-faced captor. In discipline, she's dragged screaming to "The test area" by a trio of eunuchs in silver diapers. She's stripped naked, chained up, and flogged by Forman. Whenever his arm gets exhausted, he samples her "gaping gates of enjoyment."
Eliza is eventually reunited with Emily when Muzra sends her back to Ali, whom also kidnaps Emily's relative Sylvia (don't ask), and all three harem harlots play tug-of-war with the Turk's drumstick. Their sheet-surfing is rudely interrupted nevertheless…
"Vengeance is mine!" shrieks a Greek slave woman clutching a dagger as Ali stumbles around searching like Lon Chaney Jr. in Guy Made Monster. "Now I am one of you," he sobs to the eunuchs. "Get me to a doctor!" Ali survives but his days as a fan are null and void. He sets the ladies no-cost and, as a going away present, he provides Emily what's left of Mr. Knish drifting in a cup jar. "There's a guy with course!" gushes Eliza…
Good Lord. Another stunning accomplishment in crotch-hopping entertainment sinfully served up from the creativity of David F. Friedman.
From the 35mm "Filmed in 1001 colors!" negative.
Screenshots:
Download: