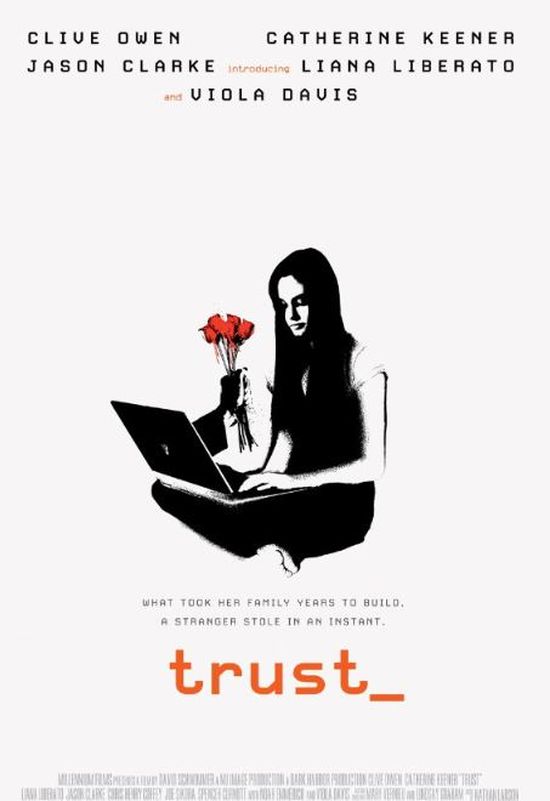 Year: 2010
Duration: 01:41:20
Directed by: David Schwimmer
Actors: Clive Owen, Catherine Keener, Liana Liberato, Jason Clarke
Language: English
Country: USA
Also known as: Confiar, Emun, Pistepse me, Trust – Perigo Online
Description: Cameron's life was a success – are growing wonderful daughter, a career of the father going up the hill, the house is equipped with the latest technology. They are accustomed to sleep at night because we are sure – do not get into trouble in their stronghold. And when their 14-year-old daughter, Annie met over the Internet with the boy named Charlie, they do not attach much importance arises between them love.
Illusion of a virtual world are scattered, when in reality the 16-year-old Charlie is 40 years of serial killers. Rape is a test for the whole family. Annie's father wants revenge for his daughter, but quite unexpectedly discovers that he is not much better than a maniac …
Review: I watched this movie on the recommendation of a friend, with whom I once discussed the sensitive issue such as deception of children via the Internet. As soon as I read the description of the "confidence", I immediately wanted to rate this picture. Well, let's begin.
In the beginning we are introduced to the main character: they call Annie, she recently turned 14, the relationship with the family is very warm, trusting, and of the favorite activities can emphasize sports and online chat. That girl on the Internet meets sixteen Charlie, who keeps it in terms of training, chatting with her on various topics, and also says that she is madly beautiful. Why not a prince on a white horse? As soon as a new message from Charlie, Annie appears on the face sweet smile, she straightens her hair untidy, and parents interested in her new friend, the girl with enthusiasm (and rosy cheeks) tells all he knows. The parents had heard the story of her daughter, such as approve such a good and intelligent boy. All anything, but soon Charlie admits that he was not sixteen and twenty-five years. A few minutes the girl have doubts, but soon their communication continues as if nothing had happened. And once they decide to meet. Only instead of a college to meet Annie comes uncle, who clearly has over thirty. And even here, the girl did not run away, just meekly goes to a cafe, and later going to do it in a motel. What happened after that, I hope everyone understands.
Screenshots:
Download: