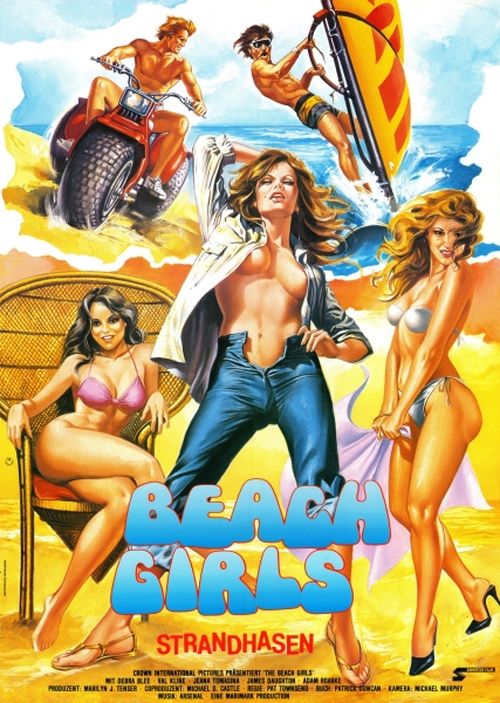 Year: 1982
Duration: 1:31:27
Directed by: Bud Townsend
Actors:  Patrick Sheane Duncan , Phil Groves 
Language: English
Country: USA
Also known as: La boum en folie, Sidste skoledag – for fuldt drøn, Djevojke s plaze, Forró kalandok, Le ragazze della spiaggia, Plazowe dziewczyny,      Raparigas da Praia, Raparigas na Praia, Plaj Kizlari, Beach Girls – Strandhasen
Description:
As The Beach Girls opens, three girls are heading for a beach house owned by one of their uncles to blow off some steam after school's out. The girls are Sarah (Debra Blee), the mousy young woman whose uncle is letting them use the house; Ginger (Val Kline), the crazy blonde; and Ducky (Jeana Tomasina), the… uh, crazy brunette. It's a situation that doesn't make much sense, as Sarah explains later to another character that Ginger and Ducky aren't really close friends of hers. She apparently just invited them along and they decided to take her up on the offer of a week spent in a luxurious beach house partying their asses off.
Actually, maybe that makes perfect sense.
Sarah arrives first and starts getting things in order while Ginger and Ducky pick up handsome hitchhiker Scott (James Daughton) and bring him along to the house. Once everyone is introduced, they all head to the beach and check out the locals. These include a big nerd with glasses, an overweight lady who chases him around, and lots of girls in bikinis.
The neighbors also include Mr. and Mrs. Brinker (Dan Barrows and Mary Jo Catlett), who each have their own reasons for checking out the beach house through Mr. Brinker's telescope. When Mrs. Brinker gets a look at the wild party the girls throw their first night in the house, she calls Sarah's uncle Carl Purdue (Adam Roarke) to tattle but ends up speaking instead to his fiancee Julie (Fern Fitzgerald). Ever mindful of their status in this quiet beach community, Julie sends uncle Carl to get to the bottom of things. When he arrives, the party is in full swing and although it pains him to do it, he must have Sarah send her friends out of the house for the rest of the week. Ginger and Ducky overhear and plan to ensnare uncle Carl with their feminine wiles, at which point the audience starts to wonder: wait, what school did these girls just get out of again? In any case, there's no way this movie could be made in 2010. Gone are the days when someone could make an R-rated movie about high school girls smoking pot, drinking, and seducing their friend's uncles. Well, someone could, but they would probably have to go out of their way to make sure all that stuff didn't look like fun.
The Beach Girls is similar to many films of the 70s in that it basically just throws a bunch of characters together and then shows them interacting with each other, mostly with the "wild party" backdrop. The very light story elements barely register, even though the rivalry between the inexplicably all-gay shore patrol boat and another ship that dumps several garbage bags of weed overboard ends up dovetailing with the girls' journey of discovery near the end of the film. Just kidding about that "journey of discovery" part, by the way. Although Sarah does eventually take off her glasses and lets her hair down, though, so at least one of them changes a little bit. The less said about the ridiculously stereotyped Mexican maintenance man and the Asian limo driver, the better.
Director Bud Townsend was perhaps best known for directing Alice in Wonderland: An X-Rated Musical in 1976. His last directorial credit was Love Scenes starring Tiffany Bolling and made for the Playboy Channel. For some reason, he's listed as "Pat Townsend" in the credits for The Beach Girls. While it's not a great film by any measure, there have definitely been worse films with their directors' real name in the credits.
Screenshots
Download