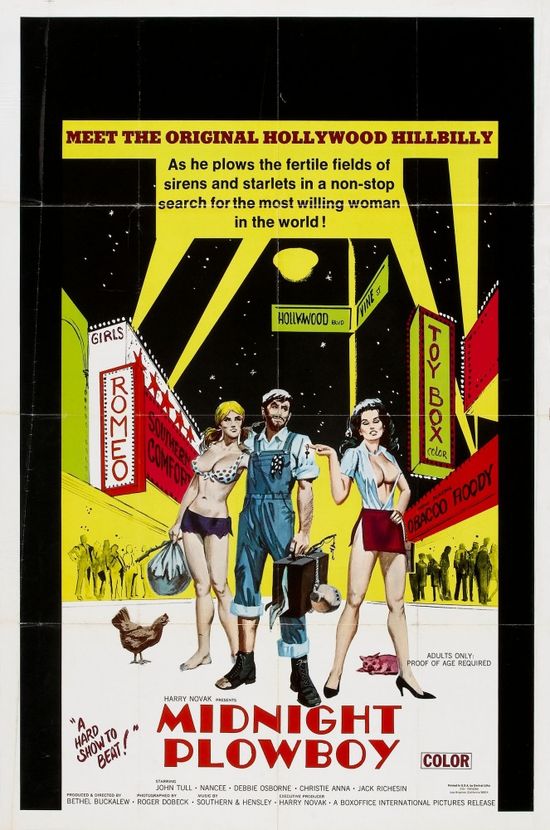 Year: 1971
Duration: 1:10:27
Directed by: Bethel Buckalew
Actors: John Tull, Nan Cee, Jack Richesin, Terri Johnson, Debbie Osborne, Cristy Anna, Linda McCrae
Language: English
Country: USA
Also known as: Sunset Girls, Vals på vägkanten, Midnight Plowboy, Quellen erotischer Lust
Description: For those of you who thought adult films titled after Hollywood blockbusters started with Edward Penishands, here's one of the later entries in the Boxoffice International released, Bethel Buckalew directed barnyard sex comedy series. Fresh off his star turn as the bovine romancing cowpoke (heh) Junior in Sassy Sue, John Tull tackles the more serious role of Junior, a van-driving redneck pimp for hire. This is a film so relentlessly cheap that the credits are scrawled on a street with sidewalk chalk.

As in all his films for BETHEL BUCKALEW, Tull plays a character named Junior. This time, he's a carefree country boy from Biloxi who's on his way to Hollywood, "where all the funny people live." While hitchhiking, he's scooped up by a cherry Cadillac driven by a kinky married couple. Turned on by his aw-shucks appeal, Mrs. Kink shines his Flesh Twinky as her hubby watches in rear view mirror and grins. Junior arrives in Hollywood to the amusement of assorted potheads and dopers. ("He's really tripping!") He can barely cross the street without getting clipped by a car. Just wanting a plate of vittles and a place to lay his cowboy boots, our honky tonk hero meets two freakazoids who send him to a rooming house. Instead, Junior winds up at a whorehouse. The painted ladies cop a feel and check him for a hernia. "Be careful! That thing's loaded and liable to go off!" he shrieks. The Madame (dressed in a silky I Dream of Jeannie harem outfit) tells Junior to pick a hooker, any hooker. But he complains that would be unfair. "I never showed no favorites to my sheep." The Madame gives our boy a job and even lets him call her "Mom." Five hungry whores gang-tackle Junior, rip off his overalls, and tease him until he goes into a seizure. Tits slap him in the face. Bare feet tickle his crotch. Finally, Junior is virtually smothered in flesh with girls sucking on his drumstick like pigs feeding at a trough.
The owner of the establishment, Herb (JACK RICHISON), gets a brainstorm: a mobile cat house! "Herb's Rent-A-Fuck." Guess who's going to be driving the van? Junior chauffeurs the girls around on various jobs proving that old adage, "If this van's a-rockin', don't come a-knockin'!" Before the film's end credits roll, Junior outsmarts a rival pimp's attempt to blow up their bedroom-on-wheels and also falls in love with good-girl-gone-wrong Bernice (the beguiling DEBBIE OSBOURNE). They go on a picnic which turns into a naked lunch.
Screenshots
Download