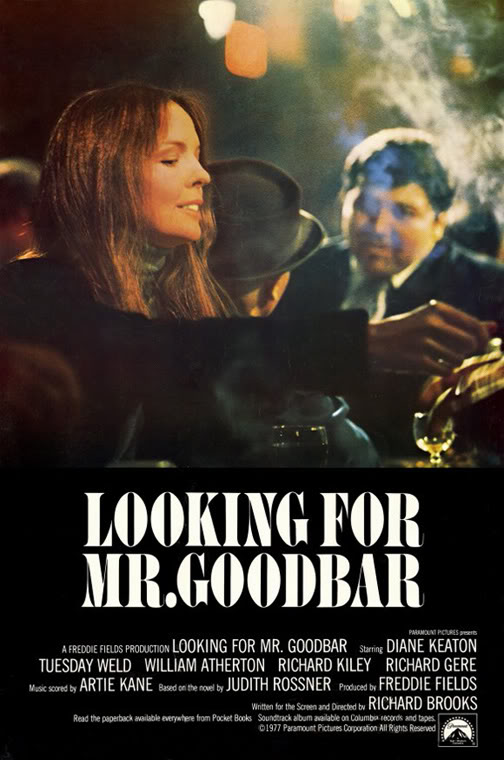 Year: 1977
Duration: 02:09:53
Directed by: Richard Brooks
Actors: Diane Keaton, Tuesday Weld, William Atherton
Language: English
Country: USA
Also known as: Buscando a Mr. Goodbar,Op zoek naar Mr. Goodbar,À Procura de Mr. Goodbar,Buscando al señor Goodbar,In cerca di mr. Goodbar,Auf der Suche nach Mr. Goodbar
Description: Theresa, fresh off of an affair with a married man, is a dedicated school-teacher of deaf children during the day. Once she moves out of her parents place, she chooses to spend her evenings seeing adult films, cruising bars, and looking for abusive men with whom she can engage in progressively violent sexual encounters. She furthers her self-destruction by a rather aimless intake of drugs and alcohol, leading to both demeaning and dangerous situations, completely at odds with her daytime commitments. In need of a father figure, she makes herself available to numerous men and eventually pays a price for her hedonistic behavior.
Watching William Atherton try to disco dance made my day.
Based on the best-selling novel by Judith Rossner. The sexual themes sparked a bit of public controversy when the movie was first released and contains one of the most memorable endings in cinematic history. This cast includes Diane Keaton, Tuesday Weld, Richard Gere, Tom Berenger and William Atherton among others.
The soundtrack is incredibly packed with artists of the day; Donna Summer, Diana Ross, Commodores, Boz Scaggs, Thelma Houston and more.
Review: Richard Brooks' film "Looking for Mr. Goodbar" veiled under psychological drama, in fact, is one of the first notable erotic thrillers in Hollywood history. Filmed in 1977, the film has gained notoriety and very able to pay off at the box office, truly glorified as actress Diane Keaton.
"Looking for Mr. Goodbar" – great, though forgotten for the moment the film is very instructive for women, sometimes sharing a commitment to Theresa Dunn.
Screenshots:
Download: