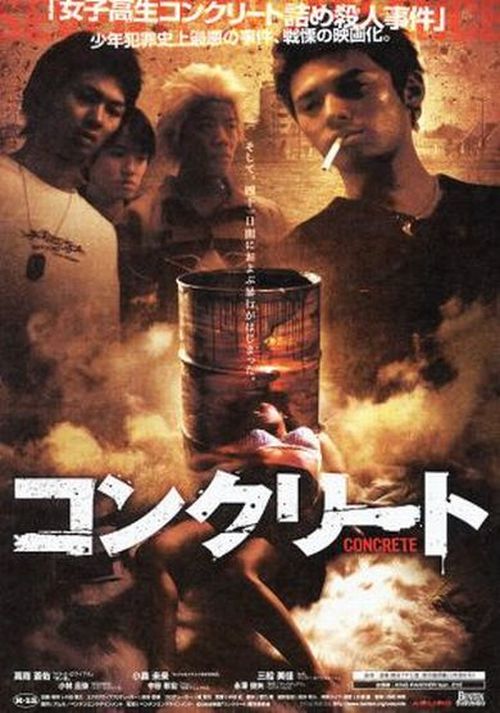 Year: 2004
Duration: 01:29:43
Directed by: Hiromu Nakamura
Actors: Katsuya Kobayashi, Miki Komori, Masanori Machida, Kensuke Mano, Mika Mifune
Language: Japanese
Country: Japan
Also known as: Konkurîto
Description: Based on Jôji Atsumi's non-fiction novel Jûnana-sai: aku no rirekisho, Concrete (Konkurîto) tells the real-life story of how, in 1989, a group of male youths in Tokyo, ranging in age from 16 to 18, abducted a 17-year-old high school girl, raped and otherwise abused her for 41 days, then murdered her. They put her corpse into a 50-gallon oil drum, filled the drum with concrete then dumped it in a reclaimed land area.
Katsuya Matsumura's 1995 movie Concrete-Encased High School Girl Murder Case (Joshikôsei konkurîto-zume satsujin-jiken) was based on the same murder case as Concrete.
Review: Quite tough and realistic to believe what is happening. For example when a company stays calm during the day about the girls they liked, four stuffing her into a car and driven away from the city, where the rape took turns quietly into the night. Moreover, unlike the American scenes of violence, all in Japanese Calculated more on emotion than on the picture. In the picture: trembling machine and pleased Takaoka, lights a cigarette, it acts much more strongly than the emphasis on the action itself in other films. You have more opportunities to present, when things do not show. While that show is quite enough for me.
The plot is simple: the boys decided to "play grown-up." Abductions of girls "for a day", and rape them with his company of friends in the street they obviously had enough. Much more fun to pick up a girl for a longer period of time – a month for example. And it is better not to hide it, and talk to their parents: "That's my girl" – and force her to call her and say the same thing. No it is not looking, because everyone knows where it is. In abuse: violence and beatings, involved not only the four of them, on which the film. According to the Human Resources: a day "for everyone."
Screenshots:
Download: