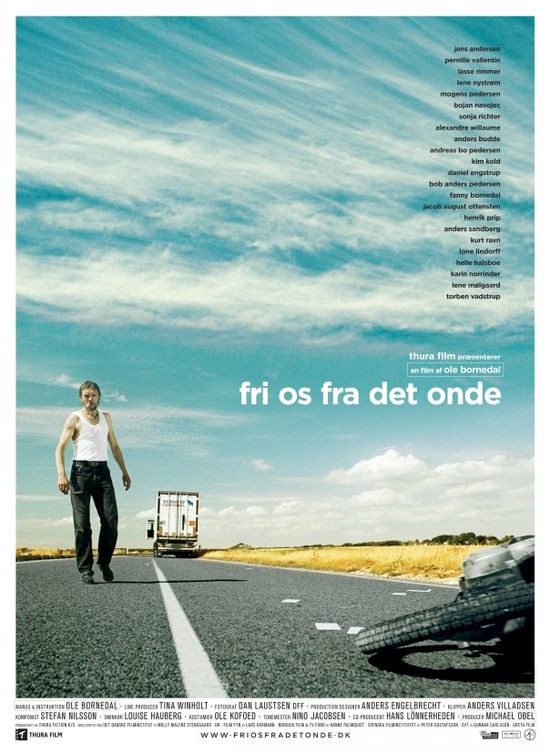 Year: 2009
Duration: 01:32:56
Directed by: Ole Bornedal
Actors: Lasse Rimmer, Lene Nystrøm, Fanny Bornedal, Jacob Ottensten
Language: Danish (English subs)

Country: Denmark | Sweden | Norway

Also known as: Fri os fra det onde, Exagnismos tou kakou
Description:  Johannes returns to his fathers home in the rural country side of Denmark. This is where the sky is always blue and the neighbors are all friendly. Johannes brother, Lars, also lives here, but while Johannes belongs to the top of society, Lars belongs to the bottom and one day in a drinking binge, Lars accidentally hits and kills an important woman. On the surface everything seems fine, but underneath the cultural decay lurks and waits to show its teeth.
True to the Danish tradition genre director Ole Bornedal (Night Watch, The Substitute and the forthcoming Dibbuk Box) focuses on a high level of realism, addresses societal and class related issues and keeps an eye on the current warfare in the middle east, but to a much larger degree Bornedal is only disguising his love for exploitation flicks of the 70s and in particular the rape revenge motif with large doses of gratuitous violence. Most strikingly Deliver Us From Evil is Bornedal's homage to auteur Peckinpah's Straw Dogs. This is an alluring but tragic story dealing with guilt, hate and alienation and in the end is the satisfyingly cruel twist ending. I guarantee an emotional effect.
Deliver Us from Evil is also the absolutely latest Danish genre film on the market (within the 'safe' boundaries), and even though some big names are connected to this feature, it was quite anonymously overlooket when it premiered.
Screenshots:
Download: