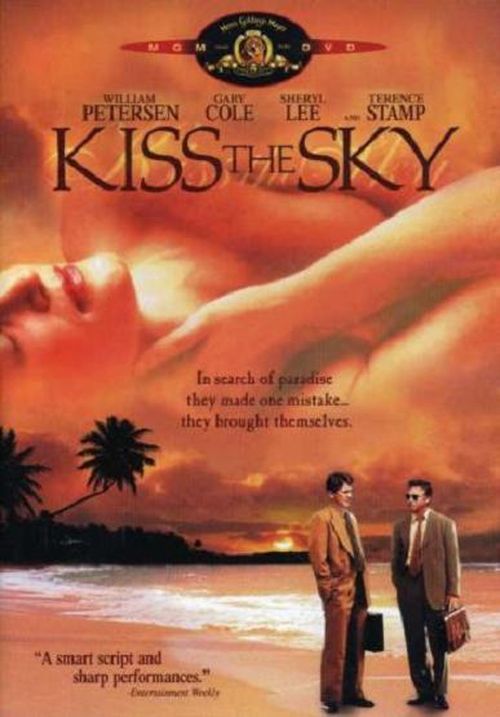 Year: 1998
Duration: 01:45:13
Directed by: Roger Young
Actors:  William Petersen, Gary Cole, Sheryl Lee 
Language: English
Country: USA | Filippino
Also known as: Apodrasi sto oneiro
Description of of Kiss the Sky movie: It's the magical story of a couple of married, successful businessmen having a mid-life crisis. William Petersen and Gary Cole decide they need some time off from their regular lives and thus head out to the Philippines on a "company trip" to try and recapture their youth. After a stop at a skeezy whorehouse and opium den they head out to the middle of nowhere to try and find paradise. Nirvana is indeed delivered in the form of Sheryl Lee, an Aussie sheep farmer on walkabout. It isn't long before Petersen and Cole are working on their own version of Chasing Amy's finger cuffs anecdote and hey is that General fucking Zod in the background as a monk with a hard-on?! No surprise then that the lads decide they want to stay in this little slice of heaven on earth and build their own hotel for like-minded horny souls – that's when things start to get complicated. It might sound like a Volunteers-style comedy folks but this is actually a pretty sombre and metaphysical look at middle-age malaise and Sheryl Lee's ta-tas of course.
Review of Kiss the Sky movie: Two cronies, realizing that their lives are plunging towards a midlife crisis, decide to go for an exotic journey to dispel the boredom and surrender to the power of their desires.
Working hard all their lives, best friends Jeff and Martin embodied in the reality of his American dream. However, it availed them nothing but disappointment.
They go on a journey, which is rather like a real escape on a beautiful tropical island, where they both fall in love with charming horny girl.
Losing vigilance, they are amenable to love intrigue and, taking the fateful decision to leave family, intend to create on this island sexual and spiritual utopia, they told a Buddhist monk.
Screenshots:
Download: