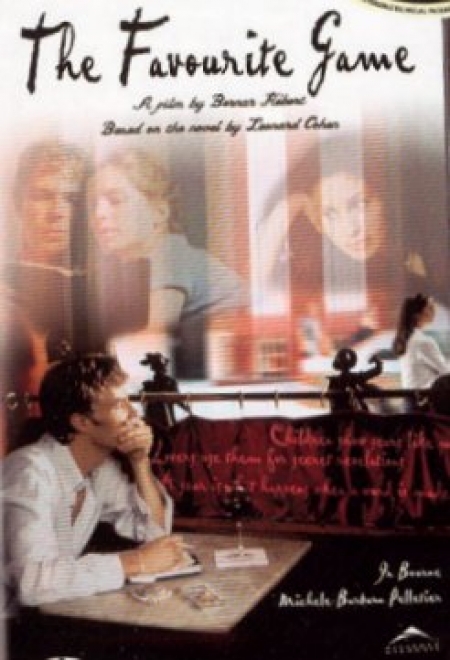 Year: 2003

Duration: 01:40:35
Directed by: Bernar Hébert
Actors:  JR Bourne, Michèle-Barbara Pelletier and Cary Lawrence
Language: English
Country: Canada

Also known as: Le Jeu de L'ange

Description: This past two weeks must mark some kind of renaissance in Leonard Cohenmania. At least on the big screen, anyway. Consider this: two weeks ago, Looking for Leonard, a Hal Hartley-esque locally made indie feature had its debut, full of references to the pop poet icon. Then last week came So Faraway and Blue, Roy Cross's directorial debut, which felt soaked in the influence of Cohen.
This week sees the unveiling of The Favourite Game, Montreal filmmaker Bernar Hébert's adaptation of Cohen's first novel of the same name. Notably, the film will open this year's Les Rendez-vous du cinéma québécois, the province's pre-eminent showcase of all local celluloid. Cohen's and Hébert's combined stature is so great in the Quebec cultural milieu that this will mark the first time Les Rendez-vous has opened with an English-language feature.
Words built for the screen
At first glance, it would seem The Favourite Game would beg for cinematic treatment (Lord knows, there's lots of shagging). But the book, which was first published in '63, also clearly presents a pretty intense challenge for a filmmaker. The novel is virtually entirely devoid of any action, surely a roadblock for a medium that has become so utterly narrative-driven.
But Hébert says the challenges The Favourite Game presented were clear and welcome. When producer Michel Ouellette handed him a copy of the book eight years ago, he immediately saw its potential. "When I read it, I thought it was really dense and perhaps not easy to condense," says Hébert, whose previous films include La nuit du déluge and Le petit musée de Vélasquez. "It was about a character who wanted to create his own world out of poetry."
The book has clearly taken its place in the Can-lit and Jew-lit canons. Its central character, Lawrence Breavman, the only son of a Montreal Jewish family, romances various women and works towards publishing his first novel while discovering his own creativity. Game has become noteworthy for many reasons, including Cohen's ability to make the novel intensely romantic and deeply ironic at once.
Screenshots:
Download: