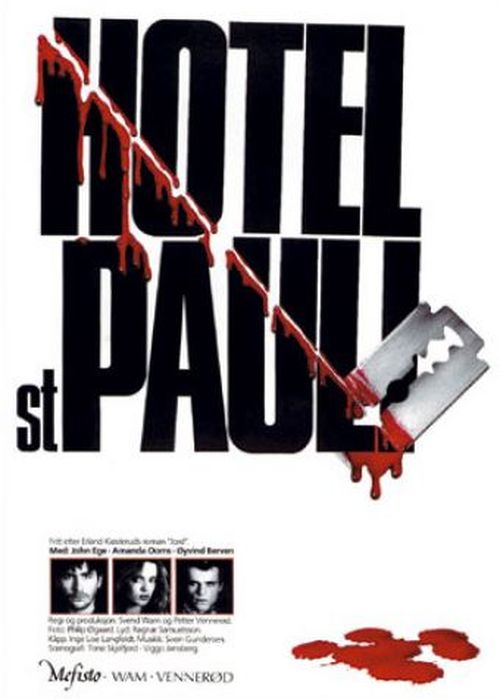 Year: 1988
Duration: 1:43:48
Directed by: Svend Wam
Actors: John Ege, Amanda Ooms, Øyvin Bang Berven
Language: Norwegian, Swedish (No Subs)
Country: Norway
Also known as: Conflito de Paixões
Description: Here you have a really rare sleaze movie from Norway! In this movie you have everything, graphic sex, naked girls, norwegian cowboys, castrations, urinations and one of the dumpest plots ever. This is Scandinavian ultra sleaze at its finest!

A norwegian cowboy is on his way to Copenhagen in Denmark, for a bit of a drink & a dance, on his way he manages to jerk of in a public toilet in a train station, this guy is a real trip. When he finally gets himself to Copenhagen, he hooks up with the biggest pair of a-social hippie degenerates you've ever seen. The woman (Amanda Ooms who filmed in The Women on the Roof) is a prostitute from Sweden.
Review: Three movie characterц – absolute bastards, шт which is left (if there was one time) anything human. The director does not spare them black paint, and the actors, to their credit, played the absolute lack of soul in a physically healthy and beautiful bodies. Another thing – why do they do it? What is on the screen translates fecal stream (well at least only in a figurative sense)? The viewer to think and I realized that you can not live like this? Not at all – simply because the authors of the "Hotel" St. Pauli "believe that it will be beautiful and aesthetically pleasing. That takes place on the screen the story of how a simple country boy Morgan ran into a bohemian couple: Yor playwright and his girlfriend Gerda – and they are all a result of this meeting, different but equally malosimpatichnymi way to send to the light.
To begin, however, a simple country boy Morgan killed his mother with a disability and go on the run (with a picture of this time.) And then we came across a drug addict Gerda, which led him to vainly looking for inspiration Yoru as a fun type. Like, what if it's disguised as a muse? Maybe it is certainly so, but Svend you immediately puts the record straight «i», not sparing the brown paint for the hapless matricide. Morgan screen even among sex maniac with exhibitionistic tendencies. While in sleep Yore (and gradually awakens) sadist, well into Gerda – a little of everything. In general, the characters find each other, and the director made one of the most shocking erotic scenes in the history of world cinema.
Sex, drugs, unmotivated murder, castration – gradually the whole screen "black» longer seen adequately and you will notice with horror that can not see in the behavior of the characters is nothing special. And the only conclusion from what he saw – a horror film! And so it is. Svend you took disgusting, vile, pointless movie, which physically look nasty and probably do not need. But to deny that films like "Hotel" St. Pauli "symptomatic means to hide our heads in the sand. Today, these symptoms are more alarming than the almost quarter of a century ago.
Screenshots:
Download: