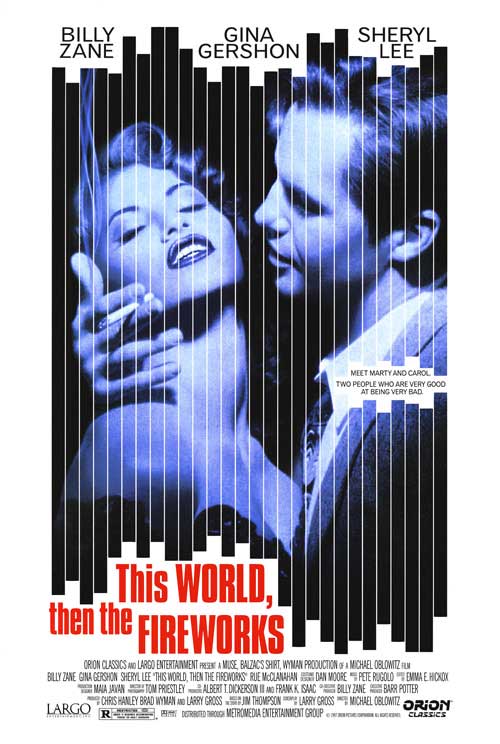 Year: 1997
Duration: 01:36:00
Directed by: Michael Oblowitz
Actors: Philip Loch, Elis Imboden and Christian Durango
Language: English
Country: USA
Also known as: Bu dünya ve ötesi, Liens secrets, Ohne Gewissen, Os Pervertidos, Tuli hännän alla, Twisted Minds, Vidas Enraivecidas, Yhdessä vaaralliset
Description: This past week marked the thirty-first anniversary of the death of Jim Thompson, the cult-object writer who worked on the scripts of Stanley Kubrick's The Killing and Paths of Glory, but whose real gift to film history was a shelf's worth of pulp novels (The Killer Inside Me, The Getaway, The Grifters) so intense and obsessive in their seaminess that they amount to a double-dog-dare to the movies: You think you're the repository of forbidden daydreams? Put this on the big screen! Two versions of The Getaway, including one with Sam Peckinpah's name in the credits, softened the relationship between the husband and wife bank robbers on the lam (the star of the Peckipah version, Steve McQueen, having objected to the less cheerful elements of a screenplay treatment turned in by Thompson himself); Coup de Torchon, directed by Bertrand Tavernier and based on Pop. 1280, is in motherfucking French! Even the best of all Thompson adaptations, Stephen Frears's The Grifters, is handsomely mounted and has a good vicious streak but keeps it distance from the vortex of Thompson's deeply felt hatefulness; it maps the dragon's lair down to the last molted scale but resists the urge to fling you in there by your feet and nail the door shut behind you.
To see what Thompson's special, sweaty brand of nihilistic dementia looks like uncensored, flashy but not polished, your best bet might be the 1997 This World, Then the Fireworks, based on a posthumously published Thompson fever dream. Directed by a music-video veteran named Michael Oblowitz, the movie lets you know right from its opening moments that it's not going to play coy and try to impress you with its subtle touch. The antihero and narrator, Marty, has a twin sister, Carol, and the movie opens with a little backstory interlude set on their fifth birthday. Entertainment at the party includes a shootout between their father and the wife of a woman dad's been screwing. "The man on the floor didn't have any head, hardly any head at all," Marty says, by way of explaining why he and sis got such a kick out of the festivities. Oblowitz shoots this bloody-trauma sequence in over-the-top funhouse mode, breaking out the fish-eye lenses and dousing the screen with surreally bright colors and contorted faces leaning into the camera. He doesn't pull back much when the action shifts to the "present"–which is supposed to be 1956 but looks more like some perpetual Noirville, U.S.A.–and Marty and his sister, who's become his fuck buddy, are played by Billy Zane and Gina Gershon, both looking as if they'd immigrated to our world from the covers of old paperback thrillers.
It might be a stretch to call This World a good movie, but it's true to its overheated vision in a way that's amazing to watch, partly because it makes you aware of how watered-down down pulp movies really are. Zane and Gershon thrive in this atmosphere. She's never been as eerily adorable as when she describes having suckered a couple of thugs who thought they could threaten her into staying out of their territory ("I do believe they'd never heard of chloral nitrate!"), and he looks unusually at home whether he's resigning from his job as a newspaper reporter by physically assaulting his editor (because the man has said nice things about his work, which bothers him because it makes him worry that the man might have the capacity to understand him) or romancing a masochistic woman cop (Sheryl Lee) by asking, "Are you blonde all over, or just where it shows?" If there's any real art mixed in with the cheap thrills and dazzling hype of This World, it comes from Sheryl Lee; as in Twin Peaks: Fire Walk with Me, she demonstrates a rare, brave talent for acting her character's sexual degradation that sensitizes you to the pain inside the pulp fantasy. She conveys the unhealthy attractions of Jim Thompson's cruel fantasy life even as she transcends the mindset that it grew out of.
Screenshots:
Download: