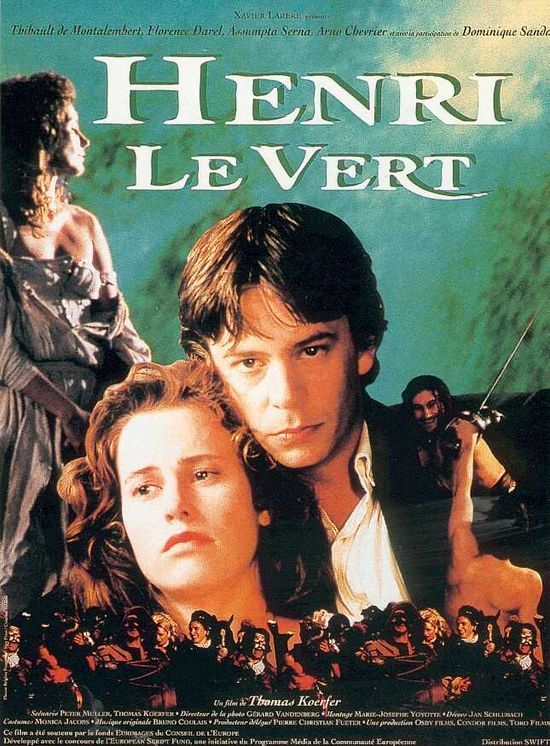 Year: 1993
Duration: 01:50:47
Directed by: homas Koerfer
Actors: Thibault de Montalembert, Andreas Schmid, Florence Darel
Language: French (embedded Italian / English / French Subtitles)

Country: Switzerland | France | Germany

Also known as: Der grüne Heinrich
Description:During the carnival in Munich artist Henry Lee causes a duel with his friend the Fox. There is still time before the match, before his eyes childhood was spent and the series of events that led to such a finale.
Review: What is love ? Communication spirit il interlacing bodies? Gottfried Keller nervously rewrote his novel , not knowing how to express personal feelings of confusion , wandering between child and adult friendship attraction , stunned suddenly discovered child physical bonds of male and female , trying to fit in the mind of the bright side of tenderness and rage heated bodies , tangled in thoughts Memories timid boy and tortures passionate youngster .
At the carnival delirious fancy evening " Green Henry " feverishly seeking a way out of their systems, tormented by guilt, doubt, and finding no explanation for what happened . Besides adventure that so suddenly changed his future life. From him he carried away in his childhood , going back to his mother , for his son to alter a bright green coat his deceased father , referring to the very " Green Henry ", receiving punishment instead of a cute girl Anna finished , as he did, to support each other , thankfully helping out a friend in minute school scrapes.
Idyll of innocence corrosion destroys eros , coming after a chance meeting , raised the curtain on the mystery for which has not yet come to the appointed time – a slutty actress became the attraction of thoughts, drawn by the knowledge of a new, terrifying and alluring wishes, smashing a person's feelings on the bright carnal love and friendship .
Directed by following the novelist wandered between the past and the future of the protagonist, does not notice when there was a crisis that divided the two closest people they do not know where the boy was over and the man began , it became warm, and why there was passion , tearing her husband's attention between Henry and Anne Judith appeal trial : cry of the soul and call the hot flesh – flour indescribable pain and eternal love.
Andreas Schmid, a charming boy replaces Henri Thibault de Montalember scattered , and the shock of the children's fear turns into psycho-physiological degeneration of the internal conflict , condemns the youth to seek solutions twin goals of being, and , seeing no way out , get rid of the obsession to dream , visions of returning to the carnival dances the night, where , caught in a word , you can do away with the body, unless otherwise can not free the soul .
Screenshots:
Download: