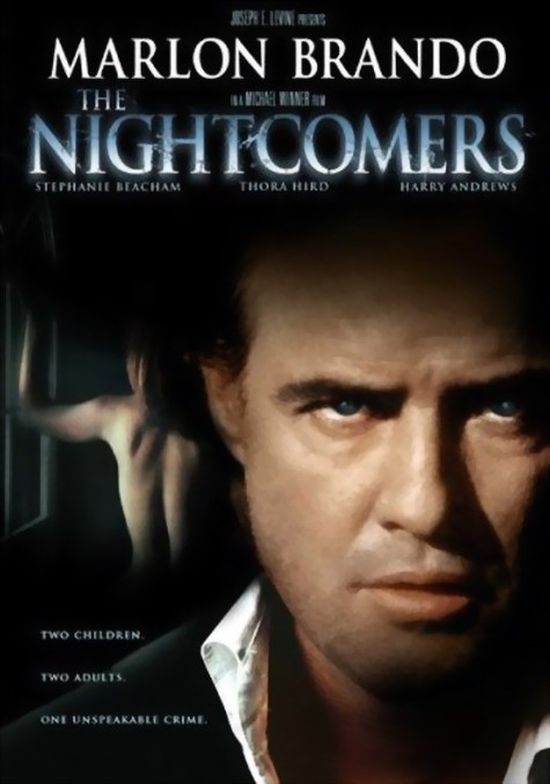 Year: 1971
Duration: 01:32:48
Directed by:  Michael Winner
Actors:  Marlon Brando, Stephanie Beacham, Thora Hird
Language: English (Nordic Subs – Danish,Norwegian, Finnish, Swedish)

Country: UK
Also known as: Éjszakai jövevények; Das Loch in der Tür; De besatta; De verderver; Den natlige gæst; Improvvisamente, un uomo nella notte; Karanlikla gelen adam; Kauhujen yö; Koszmary; Le corrupteur; Los últimos juegos prohibidos; Nocni goscie; O anthropos tis nyhtas; Os Perversos; Os que Chegam com a Noite; Sanansaattaja
Description: The film – a classic background story "Turn of the Screw" by Henry James, in which the governess, hired for the education of two children, learns about the obsessive nightmare haunting them. Filmed by Michael Winner (Dirty Weekend and Death Wish)

Review: Great movie! Seeing started reading reviews and was surprised. When people seriously argue that Marlon played a notorious villain in the movie, think about it, and not whether the indictment is speech bigots housekeeper of the film? Very much in the spirit of endless invective against everything.
Of course, to blame amour, but just not quite familiar, and therefore fiercely condemned. If in the beginning of the film appear Housekeeper and gardener, the twenty minutes between them necessarily played out affair, that is only the horns and hooves and tail and ears of something big and solid. But if as a gardener there Marlon, all the shepherds and shepherdesses are hiding behind grass, went hunting for a tiger.
It has long been the norm that all unusual and goes beyond cliche is condemned and rejected by the majority. Among these anomalies are appreciated especially intimate relationship: they prohibit, edit out the map of everyday life, and each partner put on a chain, put it on his head drum and with all the strength of virtue knock. But because of opaque glass cup filled with burning passion, it is not even the tip of the iceberg – hidden from observation not ninety, and all ninety-six whole and thirty-three hundredths.
In addition to a passion for the housekeeper and governess gardener in watching two pairs of eyes are not yet spoiled by endless false moralizing teenagers. By the way, unlike the stupid and angry at the world and Mrs. SRS reviewers children enchanted hero Marlon (governess, blinded by passion, does not count). For they saw the rude manners profligate delicate nature, and this is the real treasure of the surrounding fake dummies, breaking away from the thread for a violent manifestation of life. However, I must say that their number is limited, but even one is able to poison Mrs. pastoral. Gardener Peter – that children who reveals the secrets of the world order and overthrow the idols erected methodically adults. And how can these crafty eyes squint to lie, if the owner so incendiary cavorting with restless teenagers? So, the quoted phrase gardeners utter scoundrel equivalent to the voices of children will experience the love from the outside is when a man beats a woman. And great uncles, and immature urchins decided that three point and sixty-seven equal one hundredth hundred. For the reviewers say anything, but the kids wanted to know the feeling of less annoyingly. It's like a clumsy-looking eclairs: until you try it – do not know. Or as a chilli. Or as with rum. Not all of these flavors are available for children. I feel like saying: adult, close up keyholes and gum zanaveste window when playing in their strange game. Though passion do not care about other people's eyes, so the prize went to rhetorical.
Screenshots:
Download: