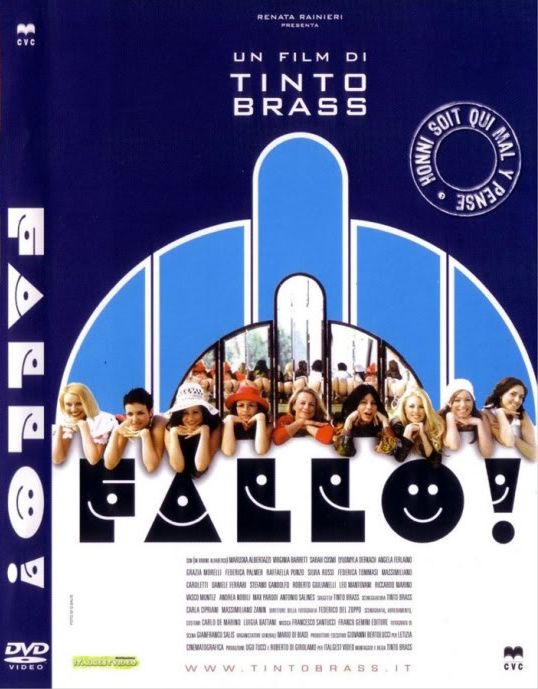 Year: 2003
Duration: 01:26:43
Directed by: Tinto Brass
Actors: Sara Cosmi, Silvia Rossi and Raffaella Ponzo
Language: Italian, French, English and Spanish
Country: Italy
Also known as: Fallo!, Private, All Ladies Do It!
Description: 1) "Alibi" While celebrating the seventh anniversary of marriage in a hotel in Casablanca, Morocco, Gianni convinces his wife Gianni to do a threesome with the room servant Ali. 2) "Double Trouble"  While playing tennis with Bruno, Stefania has intercourse with him in the bathroom. Meanwhile, Bruno's wife Erika does with Stefania's husband Luigi in his office, to get the position of guest in a talk show. 3) "Two Hearts and a Hut"  The maid Katarina is tipped with a high amount and prostitutes with a couple of sadistic & masochistic. 4) "Jolly Bangs" While on the beach, Raffaella fantasizes erotic affairs to the satisfaction of her husband Ugo. 5) "Honni Soit Qui Mal y Pense"  The photographer Franco wishes to have anal sex with Anna, who tells him that he can do only after marrying her. When they are invited to a party, she loses her virginity. 6) "Call me Pig, Cause I Like It!"  While in London in their honeymoon, Rosy and Oskar disclose the real intentions of a voyeur.
Review: Great erotic and melodramatic film from the great master of erotica Tinto Brass! The film "Do It!" as always happens in the spirit of Brass, removed from the subtle overtones and this again is mesmerizing. The plot consists of several short stories and a bit like the concept taken off in recent years, popular cycle "Post Tinto Brass."
Is the wrong approach on some "finality" of popular director. Perhaps his work is really become a bit "harder", but time demands new mores. Dissuade the talent master a bit early, look for a recent picture of Tinto Brass shot in 2005 based on the novel "Love Leona," titled "My Love," and you'll understand. Brass as always on top!
Luster and beauty, subtle humor and eroticism, psychological profiles and insane sense of love! What can you say one word Master!
Screenshots:
Download: