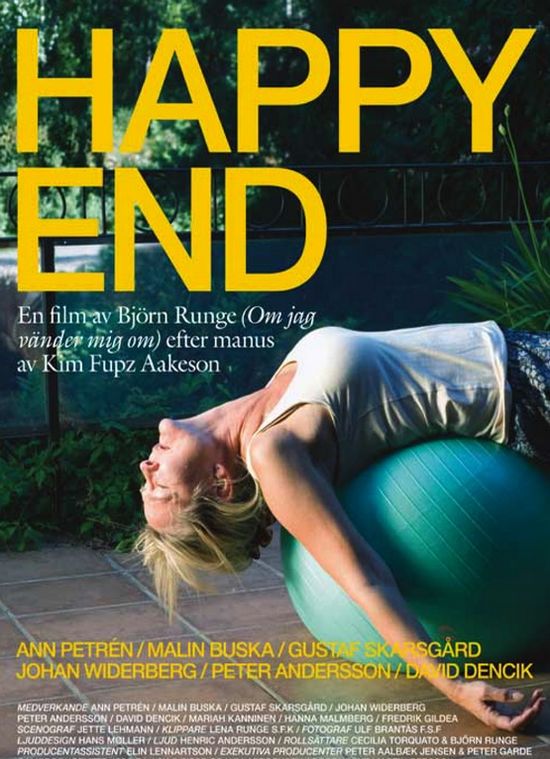 Year: 2011
Duration: 01:33:08
Directed by: Björn Runge
Actors:  Ann Petrén, Malin Buska, Gustaf Skarsgård
Language: Swedish
Country: Sweden | Denmark

Also known as: Eftyhismeno telos

Description: Yonne – driving instructor. After her husband died, she brought up her son and wanting his son the best, decided to unforgivable act.
Review: I admit that the title of this film with the word "happy ", that is happy, it seemed to me a little strange and even cynical , because such an abundance of poor people per square meter of film occurs not in every drama. In addition, each of them , just like in Leo Tolstoy , is unhappy in its own way .
However, the director Bjorn Runge did not want to be cynical . Taking as a typical Hollywood header and removing the very concept of a leisurely European cinema , he is an example of his characters showed that if put together a few unfortunate people , they can help each other become happier.
So, we have five main actors :
Peter – an artist who is unhappy for some reason anonymous and has recently gone through a crisis , trying to commit suicide .
Yonne – Peter 's mother , working a driving instructor , and unhappy because her son was unhappy .
Martin – student Yonne , unhappy because a year ago, died of cancer on his wife , and he was due to driving drunk deprived of rights.
Katrina – the cleaning lady in the house Yonne , which is unhappy because she has to clean up in the homes of others , because her boyfriend Asger went bankrupt and is now hiding from creditors , and to raise self-esteem beat her .
Asger – buddy Katrina unfortunate because it collapsed dream of his own cafe, no money, do not want to work , and go on the heels of debt collectors threatening to cut off his fingers.
As a result, Runge got some semblance of Alcoholics Anonymous , but instead of alcoholics here unfortunate people who turned his state of mind into a kind of a bad habit . Like ponies they go along their circle with blinders on the eyes , afraid to break the shackles binding them , until one day their fates intersect. And then a miracle occurs , immediately unnoticeable , but happiness is taking root in the soul of most of them . This feeling is slowly growing and gaining strength somewhere deep , and only able to cut through the slog crust covering their wounded souls , and release it outside. Moreover , the impact in this case is not always figurative concept : some of the characters will be severely beaten someone recover from furniture tucked under the arm , well, someone will be struck to reveal the truth .
This is the final film in the so-called " Liberation Trilogy " Bjorn Ruge before this , "If I look back " (2003 ) and " mouth to mouth " (2005 ) , and in each of the films heroes were given the opportunity to break the artificially constructed walls around themselves and get free to once again feel the taste of life . Obviously , the title of the film " Happy End " indicates that only now they learned it .
Screenshots:
Download: