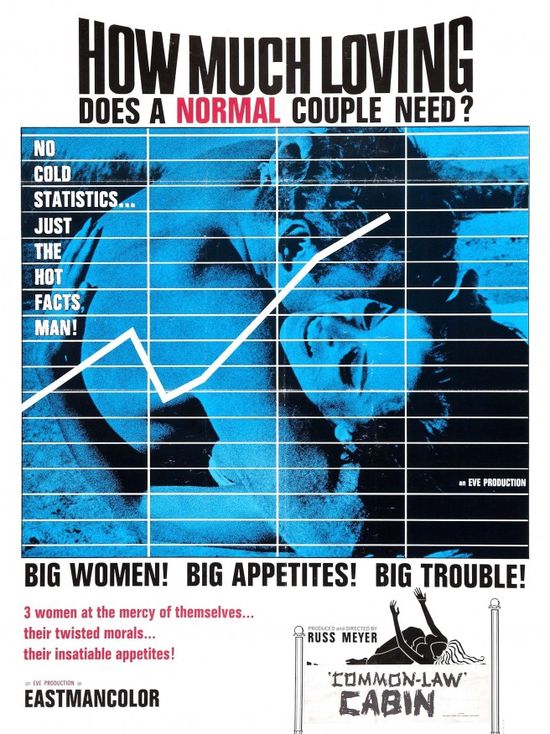 Year: 1967
Duration: 01:09:17
Directed by: Russ Meyer
Actors: Jackie Moran, Babette Bardot, Adele Rein
Language: English
Country: USA
Also known as: How Much Loving Does a Normal Couple Need?, Conjugal Cabin, Common-Law Cabin, Cabaña conyugal, Die liebestollen Hexen, Wieviel Liebe braucht ein normales Paar,

Description: Continuing the tradition of a new interpretation of the drama he had begun to " Lorna " and " " Sweet Mud " Russ Meyer takes" Common Law Cabin. '" The painting was done in a familiar minimalist Meyer – erotic atmosphere. Perhaps no one before him did not show in the cinema female bust . And despite the fact that the immediate erotic scenes in the film just a few ( partially nude bust nowadays a commonplace thing ) , direct relaxed atmosphere accompanies the film.
Dramatic overtones as is often the case with Meyer is simple and straightforward , but it is versatile and multi-layered . This movie goes about jealousy of his father, who was unable to realize his sexuality suddenly grown daughter to him . Meyer does not go into the trash regularly frank " slipping near " dimming destructive aspirations characters foolish sexual spontaneity , neck and tits , naked girls in the river .
More about this movie and tell me nothing. Could leave a strong drama, entertainment and could get a masterpiece. And all confined somewhere averaged . And if not for stylistic originality inherent Russ Meyer , then – mediocre.
Review: Russ Meyer was really very venerable director , and even at the low-budget , in its very far from the movie screens viewers felt the master's hand , felt that the neighbor is not filmed in a garage , and a real creator of art.
"How Much Loving Does a Normal Couple Need" – a little-known film Meier , which skillfully woven thriller and comedy, as well as here there is a social satire , which can be observed in almost every movie King nudity . But there is no nudity , and this should notify immediately : in this movie Russ Meyer no naked women .
"Common Law Cabin" can be safely attributed to the category of films , forgotten forever. Few people today would be an interesting story about a couple who came to the island to relax , and eventually get involved in shootouts between the owner of the land , unwilling to sell it , and questionable agent wishing to buy it. Such is the simple plot of this film , in which the characters are arguing with each other, threaten , shoot and worn from each other like crazy , trying to stay alive . Three girls , performing leading roles here , of course, busty and sexy , as befits film actress Meyer .
Screenshots:
Download: