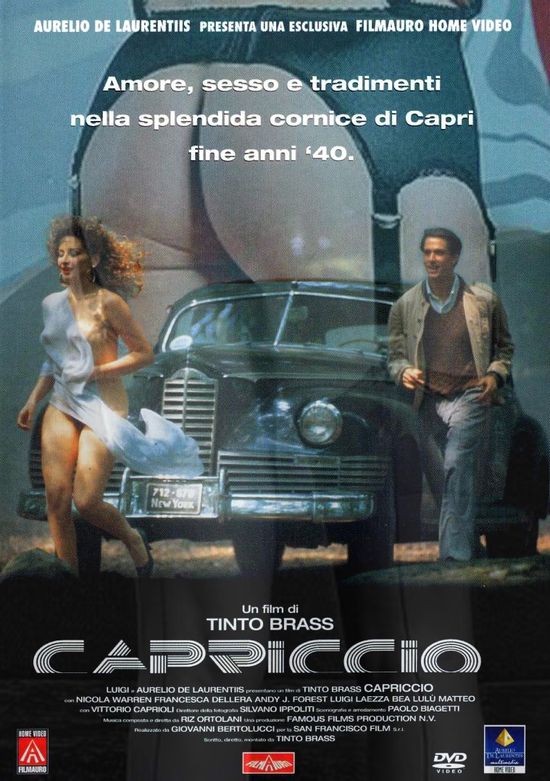 Year: 1987
Duration: 01:37:31
Directed by: Tinto Brass
Actors: Nicola Warren, Francesca Dellera, Andy J. Forest, Luigi Laezza, Isabella Biagini and Vittorio Caprioli
Language: Italian (English subs)
Country: Italy
Also known as: Die italienische Affäre, Erotikus fantáziák, Love and Passion, Vices et caprices
Description: At the end of war one young American Jennifer passionately falls in love in one young Italian Ciro. There is all that needs to happen, and Jennifer is so like that in a few years with her husband and child, she comes back to Italy to meet with Ciro. Her husband, too, doesn't lose his time in Italy.
Review: After each picture Tinto Brass has only wonder: how it all easier, more banal, vulgar and tasteless becomes his directorial style. "Love and Passion" – is the story of an American, Jennifer, is passionately in love at the end of the war in the Italian guy Ciro and a few years later came back with her husband, Fred, and child in Italy to see his former lover (and in parallel there is a love affair with Fred prostitute Rose). But the story did not seem to be as primitive and flat, if not downright bad, almost amateurish acting, directing incomprehensible, in particular – an absurd version of the installation in Brass. He does not hide his true interests and passions, not distracted by the analysis of deep and serious topics, as before, and was devoting attention to erotica.
Of course, intimate side of life can be a piece of art. But despite the claims of the director and his permanent (until 1992) of Silvano Ippoliti to demonstrate visually diverse, baroque-minded atmosphere of postwar Italy, this beauty looks postcard in style fotoromanov. Generously included in the band close-ups of female genitalia produce, surprisingly, the opposite effect. Erotic picture erotic acts are not. A final moral that on the side, husbands and wives did get back in the family, could not help think the smartest idea of this opus Tinto Brass.
Screenshots:
Download: