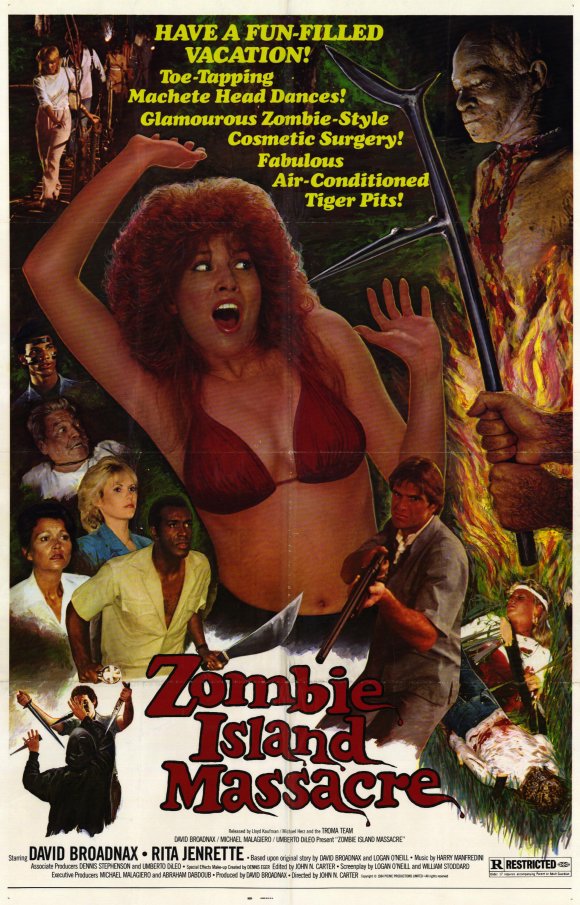 Year: 1984
Duration: 84 min.

Directed by: John N Carter

Actors: David Broadnax, Rita Jenrette, Tom Cantrell
Language: English
Country: USA
Also known as: 
Description: If you're prone to violent outbursts when you feel you've been lied to or swindled, you probably shouldn't watch this piece of unforgivable fucking bullshit. If you're wondering why a movie called, 'Zombie Island Massacre,' isn't in the 'Zombies and Undead' category, well, that would be because this is not a zombie movie. There are no zombies! No Massacres! Ok, an island, yes, but WTF?!? I almost just left the first 5 minutes which features showers, boobs, and foreplay and cut the rest. Shame on Troma for releasing this, at least with this title. If it had been called, 'Aging no-name b-actors go on vacation with other dumb white people,' I'd have more respect for it. But don't take my word, watch it! Luckily, this is the Canadian version, which means its shorter by six minutes…and it wasn't gore they cut out, don't worry about that!

Screenshots
Download