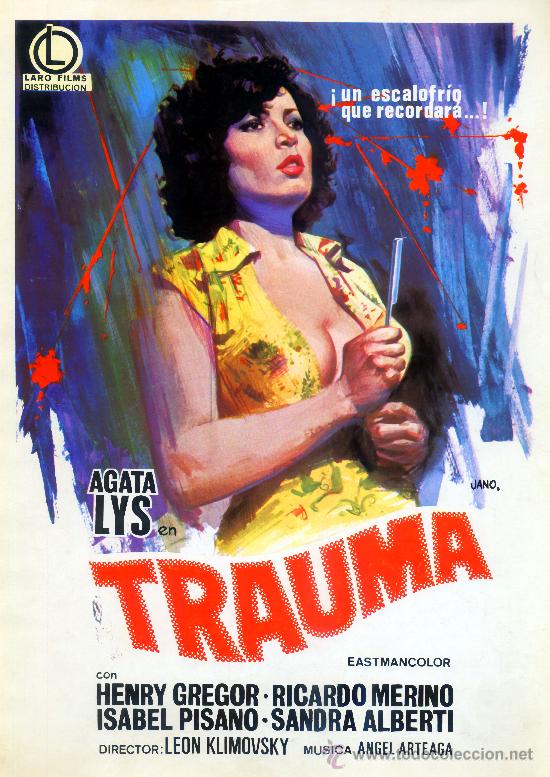 Year: 1978
Duration: 01:22:55
Directed by: León Klimovsky
Actors:  Ágata Lys, Heinrich Starhemberg and Ricardo Merino
Language: English

Country: Spain

Also known as: Violación fatal
Description: VIOLACION FATAL, one of Kilmovsky's last features, was made after he directed a series of successful horror and science fiction films, some written by and starring Paul Naschy. His influential WEREWOLF'S SHADOW (1970) shows Klimovsky at his most atmospheric, while his sci-fi projects (I HATE MY BODY, THE PEOPLE WHO OWN THE DARK) show a marked tendency toward incorporating social commentary within strict genre requirements. Klimovsky is the antithesis of the high concept, high tech, CGI obsessed horror auteurs of today. His best work is simultaneously derivative and delirious, anachronistic and sexploitative. His 1972 Paul Naschy vehicle, VENGEANCE OF THE ZOMBIES, for instance, has absurd dubbed dialogue and a goofy music track which make it an instant candidate for an Ed Wood guilty pleasure award.
One of his more elegant looking films, VIOLACION FATAL owes a lot to PSYCHO. Agata Lys (Margarita Garcia Sansegundo) is Veronica, a frustrated widow who operates a spotlessly clean bed and breakfast in an idyllic, wooded section of rural Spain. The lakeside resort is visited by a writer (Henry Gregor) working on a thriller. Holed up in his room writing, he notices that Veronica is more than a little strange. She tirelessly produces impeccably crafted ceramic figures which decorate the hotel. He overhears her talking to herself and witnesses her hostility every time a couple rents a room. Veronica is kind of a female Norman Bates, a timid, isolated woman terrified of men and resentful of the unmarried couples and no-tell-motel swingers who crash for a night of love. One night, two hikers (Antonio Mayans and Isabel Pisano) are slashed to death in their room. This is filmed from the POV of the black gloved, razor killer. It's unclear if Klimovsky is aping or parodying the then popular Italian gialli here. The bloodletting is certainly copious, with closeups of the razor cutting through necks, faces, breasts. Later, a sleazy businessman (Ricardo Merino) is killed after making out with a hooker. The same close ups of the black gloves, but, again, we don't see the killer's face. Is it Veronica, or Veronica's "dead" husband come back from the grave? An ironically satisfying double twist ending unravels the truth.
As in the Italian gialli the victims are always shown stripping down and making love before getting killed (cf TWITCH OF THE DEATH NERVE). It doesn't take too much imagination to see the connections with the fact that Italy and Spain are both historically Catholic countries where sensuality is often e expressed in Art often containing elements of violence.
Screenshots:
Download: