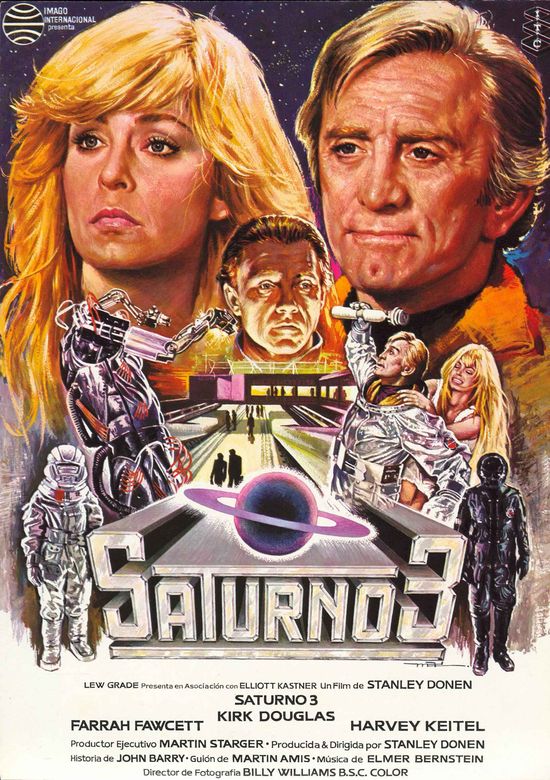 Year: 1980
Duration: 01:23:51
Directed by: Stanley Donen
Actors: Farrah Fawcett, Kirk Douglas, Harvey Keitel
Language: English
Country: UK
Also known as: Saturno 3, Dødskamp på Saturn 3, Hármas számú űrbázis, Kronos 3: Epanastasi sta astra, Kronos III, Mördarroboten, Mörder Roboter, Missão Saturno 3, Satürn 3, Saturn Three, Saturn-City, Saturno 3, o Robot Assassino, Saturnus 3 – salainen avaruusasema, The Helper
Description: Aboard a large space station on the outer reaches of the solar system, a small ship is being loaded for a journey to a remote outpost on one of Saturn's moons. The pilot, Captain James, is late loading his supplies and in the locker room, he encounters Benson (Harvey Keitel, RED DRAGON, U-571, PULP FICTION), a fellow pilot who has been grounded after failing a psychological exam. Without warning, Benson straps himself in and evacuates the air in the locker room, sending James to his death. Benson then assumes his identity and makes the supply run to the outpost of Saturn 3.
The outpost is a food research station run by Adam (Kirk, Douglas, SPARTACUS, 20,000 LEAGUES UNDER THE SEA, THE FINAL COUNTDOWN) who holds a military rank of Major and his young partner and lover, Alex (Farrah Fawcett – Extremities). They greet their visitor who they believe to be Captain James. "The Captain" as they refer to him reveals his mission, with their research behind schedule he has brought with him a robot that will help the station be more productive.
The robot, named Hector, has a living brain, a brain that is programmed by direct input from Benson. But Benson is mentally unstable, murderous and has designs on the young and beautiful Alex. And Hector begins to take on these traits as well… Starring Harvey Keitel, who also played in Bad Timing
Review: In the distant future on a distant planet Saturn 3 chemists Alex (probably short for the name of Alexander) and Adam are developing new food recipes for earthlings, which should provide humanity well-fed and prosperous existence. But in this fantastic idyll intrudes coarse and cynical Captain James with his robot Hector.
"With external luster, but the rattle alien opus", "nice-looking package, but inside – nothing" – so Wit in his review of the film American critic Leonard Moltin. In actual fact, nothing to complain about on the spectacular design and masterfully made ​​cosmic scenery. Just do not understand how the intergalactic wind has brought the American director Stanley Donen (he had preferred to put musicals, comedy, or, in extreme cases, the detectives) in this fantastic story with a "star love triangle" and spiraling out of control insane robot? I wish he made ​​a comedy that the planet Saturn and 3 of any third too is superfluous, and only four (robot) – and even more so!
Review #2: Despite the fact that the film malopopulyaren and has not made a positive impression on the audience, I think that this sci-fi thriller worthy of attention, yes, this is a serious film work does not pull, but who said that in the early 80s in SF raised any serious and philosophical questions?
Kirk Douglas is an excellent game, worthy of the contemplation of the work of actress Farrah Fawcett.
Gorgeous and hard electronic music, creating a unique, dark atmosphere in the film – painstaking work of legendary composer Elmer Bernstein, known for his music to such tapes as "The Magnificent Seven," "Ghostbusters," "Wild Wild West". "The Great Escape" and many others
The very idea of ​​the machine itself against its master is not new, but it's Beat!
Dark corridors of the space base, the hissing sound of pipes and mechanical limbs crazed robot, coupled with the above soundtrack creates tremendous stress, which in turn causes even more interest to the picture.
Yes, the film Saturn 3 is weak and at times illogical dialogues, but also many other films of this genre in the early 80s this very sin. Because only some dialogues do not need to wave to similar movies.
Verdict: Fun, full of tension fi thriller, without taking into account the low-quality dialogue and some crazy moments in the film, can be a good and fun to spend time watching it.
Screenshots:
Download: