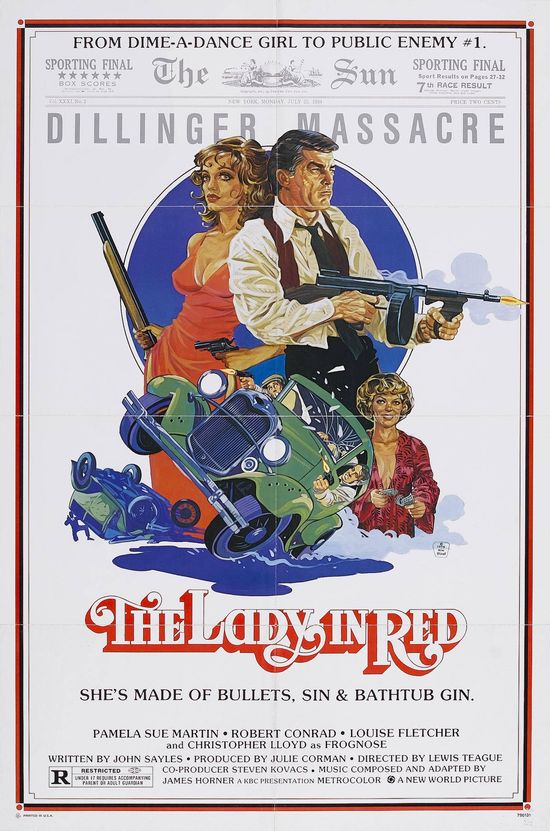 Year: 1979
Duration: 01:33:35
Directed by: Lewis Teague
Actors: Pamela Sue Martin, Robert Conrad, Louise Fletcher, Robert Hogan
Language: English
Country: USA
Also known as: Guns, Sin and Bathtub Gin, Touch Me and Die, La dama de rojo, Die Frau in Rot
Description: Fleeing from her poor childhood on a farm in the 30's, Polly Franklin (Pamela Sue Martin – Buster and Billie) goes to Hollywood – the land of great hope and promise. However, so far it can not be taken away – instead, it will remain in Chicago. Getting a low-paid job, which she caught, she quickly realizes that everything that happens to her now many times worse than the humiliation of the house.
The film Lady in Red – the free interpretation of John Sales stories about John Dillinger and his latest girlfriend, against the gangster era of the 30s.

"Lady in Red" has been directed by Lewis Teague, who also made another WIP movie Ladies They Talk About
The DVD was released by Corman's own New Concorde company in 2002, then promptly went out of print and now goes for stupidly high prices on eBay and Amazon.  I wound up buying a DVD-R copy of the DVD from an iOffer seller, which is where this is ripped from.  Sorry for not providing the full DVD-R, bandwidth restrictions prevent me from doing so – however, as you can see, the DVD was hardly pristine quality in the first place.  Hopefully this x264 rip will suffice until someone does the charitable thing and makes with an remastered re-release; maybe something to time with the DVD release of Michael Mann's Public Enemies?  Are you listening, Corman?!?
Screenshots:
Download: