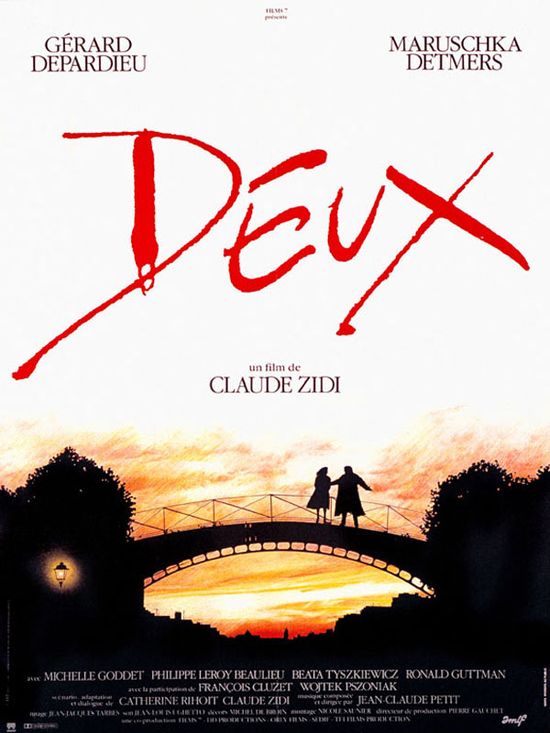 Year: 1989
Duration: 01:31:27
Directed by: Claude Zidi

Actors: Gerard Depardieu, Maruschka Detmers, Michelle Goddet

Language: French

Country: France

Also known as: Two, Ketten , Due, Dwoje

Description: Two is – a failed musician and composer Mark and Helen – beautiful woman from a real estate agency . Upon learning that the house for sale in Montmartre , where Mark lived with his teacher while studying at the Conservatory , the musician had a great desire to buy it . Fate brought him to the proud and independent Helen.
They immediately liked each other , but a composer, an incorrigible womanizer slyvu too valued his freedom , which is no less valued rich and beautiful Helen. It seems that the only place where they could avoid quarrels and clarify the relationship was the bed. But when it came to marriage, both became clear that ever lie in bed and make love , they can not. And if it was not an accident – a fire in the restaurant , then .
Review: I would say that is a very good film, based on the canons of melodrama . The plot revolves around two people who are united on the basis of passion, and nothing binds them not except the bed . In the films of Claude Zidi always respects women and men a lot of passion , barriers to love , this film is no exception.
Very pleased with the protagonists Maruska Detmers and Gerard Depardieu , very suited to each other and physically and emotionally . Fire Restaurant dotted all over and . It turns out very little need to understand how much we love and cherish each other. On the one hand practical and very busy man as Mark has time to organize concerts and had an affair with married women , because it's easier not obligations. But when he meets Helen , everything changes. Helen herself at the first meeting commended Brand as a wealthy and handsome man .
And somehow it happened that he wanted to buy a house of his teacher, musician , Helen sold it , and that is where they all started . Wonderful panorama of Paris , Montmartre, the music – everything is fine. Mark even makes a bid Helen , though she thought it was all over people with her parents , the future of fatherhood , faithful wife , all that scares Mark, he got confused and decides to break up relationships. Farewell party turns into a tragedy by fire in the restaurant needed a second to realize how much his feelings .
And as an epilogue Mark and Helen are still together, love destroys all obstacles , as corny as it may sound.
I advise you to look for those who like quality of a melodrama with a happy ending, with beautiful characters and passion between a man and a woman.
Screenshots:
Download: