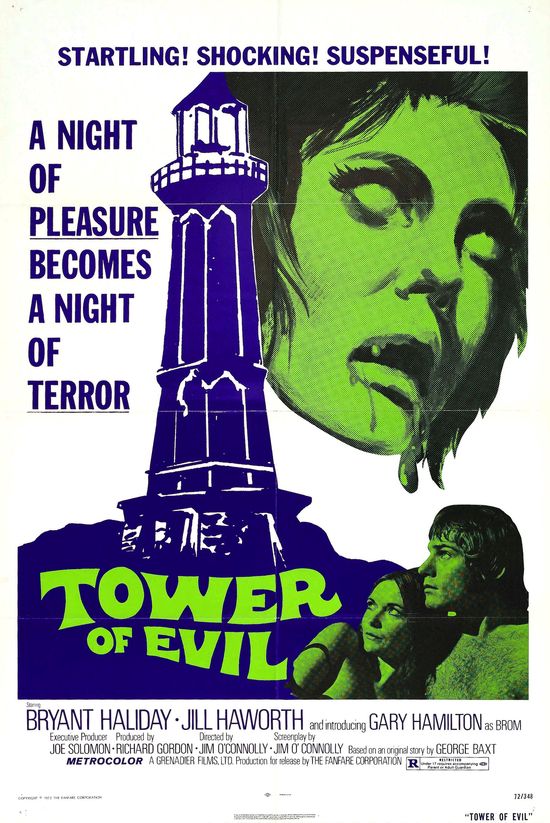 Year: 1972
Duration: 01:30:08
Directed by: Jim O'Connolly

Actors: Bryant Halliday, Jill Haworth, Anna Palk

Language: English
Country: USA , UK

Also known as:Beyond the Fog ,  Der Turm der lebenden Leichen, Devils Tower – Der Schreckensturm der Zombies, Horror of Snape Island, Horror on Snape Island, La torre del male, La tour du diable, Le vampire de l'ïle du diable, O pyrgos tou kakou, Ondskans torn, Perchè il dio fenicio uccide ancora?, Perché il dio fenicio continua ad uccidere?, Seytan öldür dedi, Snape-saaren salaisuus, Tårnet i tåken, Turm der lebenden Leichen
Description: Two horny couples head to a remote island  whete three of them are brutally murdered. One with a golden Phoenecian spear. This draws the attention of a group of archaeologists who suspect a Phoenecian captain and his treasure is buried on the island. The only other factor is the malevolent force behind the killings. Will it return to resume the killings? All I can say is this movie is awesome. Evil, Boobs and blood. What else do you need? Download and find out. And don't forget to leave a good comment 🙂
Review: 40 years ago, the film Tower of Evil one might wonder and praise.
For that time it was really terrible. Well, by today's standards even to ordinary horror barely falls short. Absolutely not bad. No appropriate atmosphere of terror there, such a sluggish current action throughout the film, under which you can have a little sleep and Wake up late, 8 minutes before the final credits. There have less than a rattling begins, but fear zero. Well, special effects, he certainly does not Shine, it was seen on the severed arm, which 10 times showed how to chop off. And next frame – plastic hand was already lying on the ground.
In General, pulls on 5 and plus 2 points for a small nudity in this film. For such an old horror is not the time right now to fear them. Best scary movies were in the 80s made and it is a fact. And in 70-s were just the first attempt, the founders of horror, so to speak.
Screenshots:
Download: