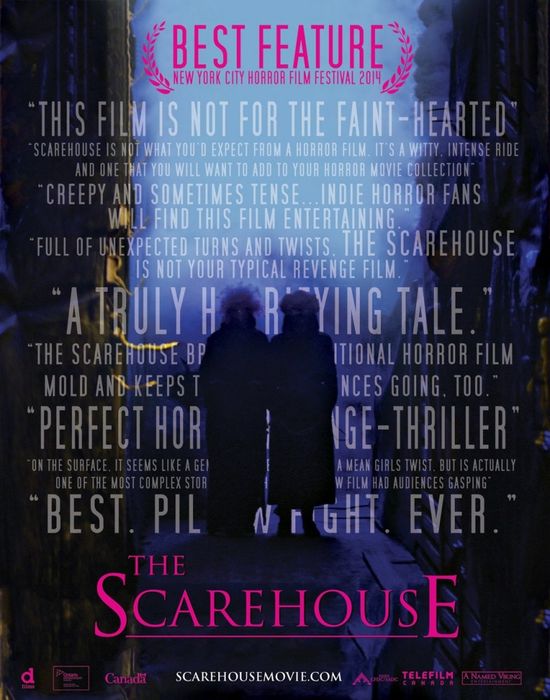 Year: 2014
Duration: 1:24:29
Directed by: Gavin Michael Booth
Actors: Sarah Booth, Kimberly-Sue Murray, Katherine Barrell
Language: English
Country: Canada
Also known as: 
Description: Two friends decided to throw a Halloween party at home and invited me to his six sisters. However, they didn't expect their games at night and the fun will come to an end, and the situation is completely out of control…
Another creation of canadian cinema, obviously low-budget and no counting. Similar movies I always have only one question — why then is it actually filmed?
Along the lines of the movies "Hostel" and "I spit on your grave", the movie tells us about two unbalanced girlfriends, eager to avenge those who, in their opinion, messed up their lives and guilty for their problems. For that they on the eve of Halloween have a party where you invite their victims. The room where the party takes place, more like a warehouse of cheap props or on the trailer of horror, which always happens in an amusement Park — a bunch of plastic mannequins, stained sheets and the dusty mirror. The process of revenge is bullying, degrading and vile torture. Not terrible, but disgusting. In addition to scenes of revenge in the film is actually nothing else. It feels like the Director of this masterpiece, too maniac and sociopath, and the film was shot exclusively for all these abominations. Brief moments between torture victims filled with meaningless action, stupid dialogues and one girl attempts to persuade another that it's all a good thing.
The girls and their sacrifices performed by unknown Actresses. Some of them have at least some experience, someone- no, but I play them all equally badly. This is clearly visible even for the reason that the operator, trying not to focus on cheap decorations, constantly gives us the faces of the girls.
Most amazes himself revenge. No, its not bloody, because all these freaks with artificial blood look not too sick and only able to hit a very impressionable person. Logic of mstiteli not as a class. In parallel with the victims they allowed in the home and other completely random people, however, through another entrance, but still… Why go to the house and inviting all at once? Given some of the details that pop up in the course of the narrative, the main character will be the main suspects, and about his innocence and alibis they seem to not care… But I seem to require very much from this film.
Absurd, stupid, boring movie, it is not worth it to watch
Screenshots
Download