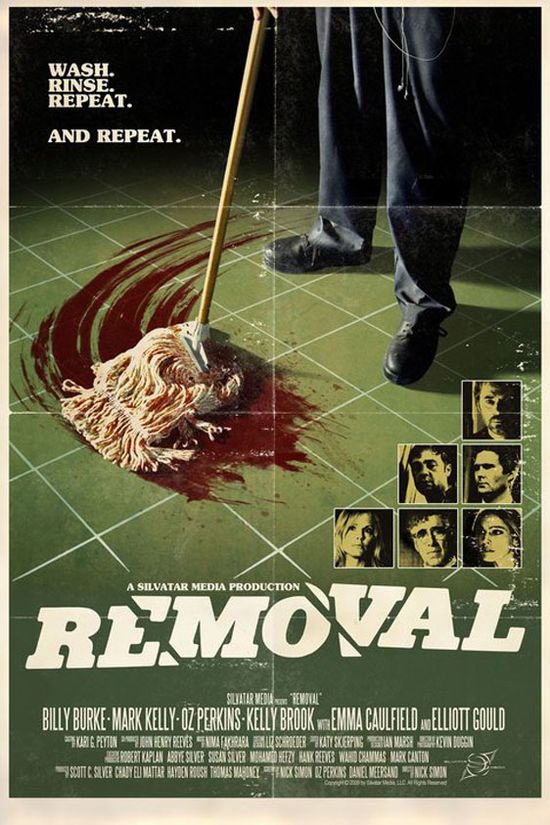 Year: 2010
Duration: 01:30:22
Directed by: Nick Simon
Actors: Billy Burke, Mark Kelly, Oz Perkins
Language: English
Country: USA
Also known as: Removal – Einfach aufgewischt!
Description: Since then, as Cole witnessed the killing, his life rolled into a ditch. His wife left him, he was suffering from hallucinations, and to earn for a piece of bread he had to clean carpets. At a time when Cole seemed to have reached a bottom, he was caleed to a night job at a country house …
Review: Having started to write this review, and, please note, the first on this site, I remembered the words of the TV series Make it or breake it. Although this show has nothing to do with the Removal, the following words, I think, quite to the heart of the film:
-When you look in the mirrow what do you see? Do you see a prety 16 years old girl with a lot of options and distructions or do you see a champion?
And who sees in the mirror Cole? At times he gets to see something positive, and at times … fear, doubt, and fatigue are showing him horrible things. And he believes it. This is the most important thing – who you want to be and what do you believe in yourself. Believe that myself, who beats children or the one who sings in a church choir? Cole is not enough just to be able to say anything about him specifically. He's like scales, which under the influence of the environment fall into one, then the other. Also, the big question is, what he sees in other people, in this case, most importantly, what eyes he looks at them.
I decided to write a review on it Removal, because he has no competitors in creating tensions. Music, tone, direction … Despite some flaws in the script, the film keeps in suspense until the end, and even longer. Actors played mediocre, I can say that Mark Kelly – I do believe him.
As a result, a great psychological thriller with elements of detective (long to decide whether the film mystical or psychological, but as for the most part we are in the mind of the protagonist – that stood on the psychological).
Screenshots:
Download: