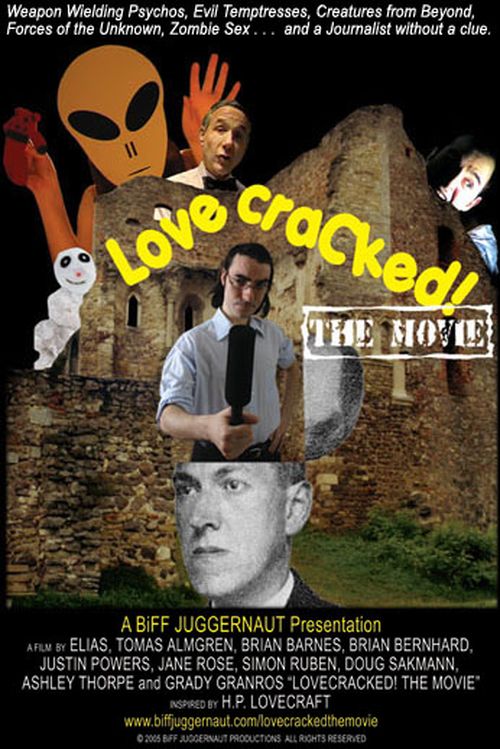 Year: 2006

Duration: 01:26:31
Directed by:  Elias, Tomas Almgren, Brian Barnes, Brian A. Bernhard, Grady Granros, Justin Powers, Jane Rose, Simon Ruben, Doug Sakmann, Ashley Thorpe
Actors: Elias, Chad Bernhard and Rich Casella
Language: English
Country: USA
Also known as: LoveCracked Movie 2006
Description:  By studying the biography of Howard Phillips Lovecraft, a young journalist is completely immersed in the mystical world of the works of this writer and eventually ceases to distinguish reality from fiction.

The shorts themselves are pretty cool sometimes and range from dark horror movie in color and B&W (a wanderer in the woods rescues a woman from a lumberjack with an axe but then discovers why the man wanted to kill her—she's a MONSTER! A guy goes into a cocoon and becomes Bug Boy) to crazy animated craziness to porn-gore in the 'Re-Penetrator' where a Herbert West-type brings a hot corpse back to life as a nympho-thing (actual line of dialogue: "Ooh…ahh…Eat my Zombie Pussy!").
At one point, Elias goes to the Troma headquarters and interrupts Lloyd Kaufman in the middle of a blow-job from a lowly office boy. And then there's a living marionette, and violins, and electric guitar, and cursed paintings…it's like channel-surfing between comedy, documentary, horror and art-film stations. Obviously, the shorts were made by different people and it's almost like being at a film festival of their work, all tied together by the Lovecraft theme.
Screenshots:
Download: