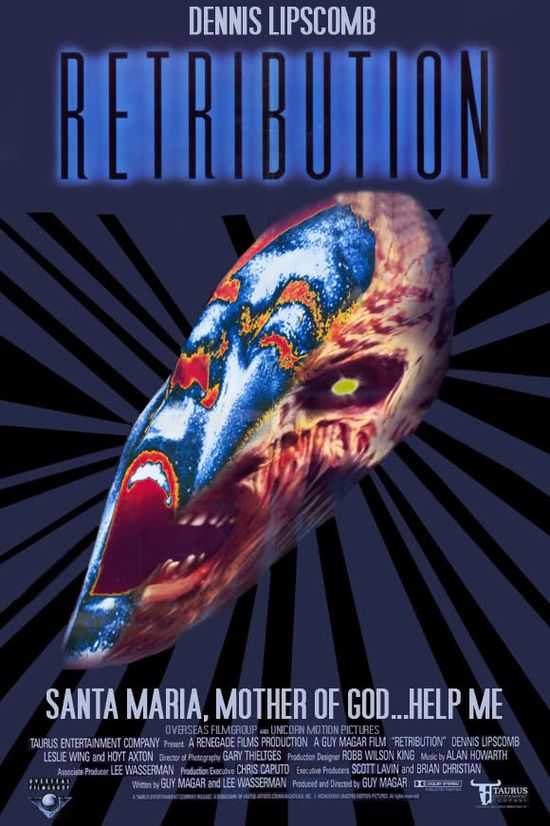 Year: 1987
Duration: 01:44:39
Directed by: Guy Magar
Actors: Dennis Lipscomb, Leslie Wing, Suzanne Snyder
Language: English
Country: USA
Also known as: Retribution: The Ultimate Nightmare
Description: An artist George Miller decides to commit suicide on the night of Halloween. But jumping from the roof, he did not die, although to stay alive in such a fall is impossible. On the exit from the hospital begin to pursue nightmares in which he kills the strangers, and then it turns out that the murders actually happened. George and his friends try to understand what is really happening to him, and gradually it becomes clear that George is not always George. From time to time his body takes hold of somebody else having a terrible sinister force. Someone who returned George light, with some unknown reason.
Review: Just watched this film. Impressions are the most pleasant.
Man by the name of George decides to commit suicide. By jumping from the roof, he dies and goes to the hospital. There was assisted, George is on his feet, but his nightmarish dreams he kills people, and in the morning it turns out that they die for real. Friends try to understand what is actually happening with him, and help in every way, the same George wanders alone through the city, trying to find answers to their questions…
This is the second film guy Magara (who, by the way, in the film a cameo role taxi driver)that I had a show. And to tell you the truth, «Children of the corn 7» much worse «Retaliation». I was pleasantly surprised by the early work of the Director. I also want to identify separately the compositional work. All the music that sounded in the film, pressed the correct keys of my perception. Good especially the main theme at the beginning and end of the movie. About actors say briefly: good. The film is full of gloomy images, a cruel bloody scenes. Were pretty creepy moments.
Minus one: the movie would do well to slightly shortened. But overall, the film «Retribution» is exactly what this should look like a horror film. For it is a horror film at all one hundred percent!
Screenshots:
 Download: