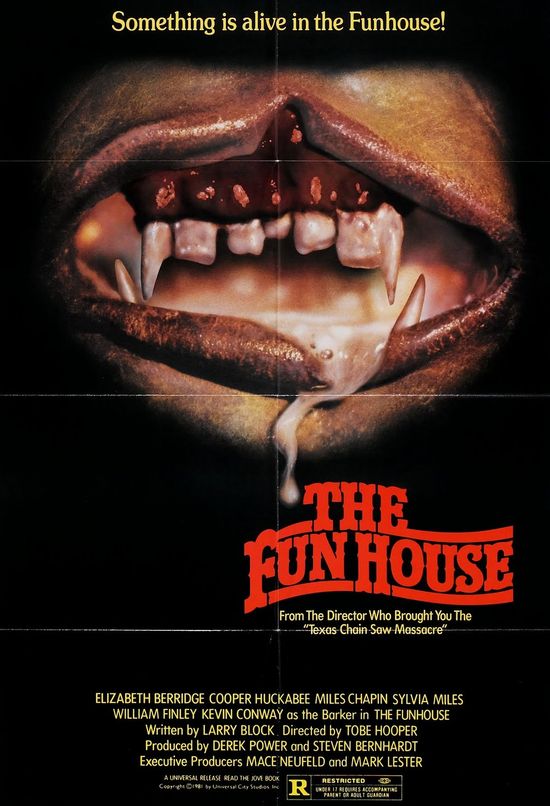 Year: 1981
Duration: 01:35:06
Directed by: Tobe Hooper

Actors: Elizabeth Berridge, Shawn Carson & Jeanne Austin

Language: English
Country: USA
Also known as: Carnival of Terror, Il tunnel dell'orrore, La casa de los horrores, 
Description: Four teenagers and one little boy Joey decide to spend the night in a carnival ghost-train on the fair. They were not even aware that the disfigured son of carousel's operator felt into a rage of – for refusing fortuneteller his money back and killed her. Teenagers became unwitting witnesses of the murder and soon realized with horror that they live there are very few …

Review: I've been asked before to post a nice quality version of this so here it is. This is the tv version with extra footage. For big fans of this great film, this is a must have. For the others, I posted a low rez youtube video  a while back and I included it below if you just want to see the scenes. For those interested in a nice copy with the scenes in the film, this is the one you want. Red Shirt Pictures got this tv footage from me to include as an extra on the Scream Factory release but they left out a few minor things. If you're a big fan of the film, the Scream Factory blu-ray is worth owning even if they didn't include a second disc with the tv version like they did with Halloween Night. The BD release from Arrow is also worth getting.
No, how can I still love Touba Hooper … yes, now it unfortunately takes a terrible trash, yes, the success of "Poltergeist" was once blamed on Steve "I stupidly looks without a beard, is not it?" Spielberg pushing Touba somewhere in the background. But what I can tell you – creativity Mr. Hooper I love and respect no less than the works of Mr. Spielberg. But once Tobe shot really good films.
For example, such as "Funhouse" (so named because I brought that this phrase is translated in different ways). And these movies I love with all my crazy heart. And not to love – at least interested in is a plot by a reasonably good mix: Fairground fortuneteller-davalka decided to serve the local freak, was not properly served, did not give him money, he banged her, there were witnesses, and now they are to be removed.
Another thing is that this story begins, strictly speaking, about the fiftieth minute. Prior to that, we see a genre of being a icon as "Halloween", visiting attractions and blowing grass teenagers, but not a single killing it. The film swings slowly, and it is not very good.
Fortunately, later Hooper decides to redeem the same, and quickly sends youth to the forefathers (almost all the killings delicately leave behind the scenes, but the blood will be).
However, with what Tobe missed – so it is with makeup. Glavgad like anyone – an alien, the radioactive mutant, but at least a cross between Siamese twins and Predator – but I can not believe that's it's ugly mug is exuding saliva fairground freak. Yes, they are not like normal people – but because they are not as scary.
But the family instinct here seen clearly better than, for example, in "The Texas Chainsaw Massacre" of the same Hooper. If there are members of the Honourable little family madmen shouting to each other and each other almost dubem chased, in "Funhouse" Toub draws to us touching picture of how adoptive father glavgada first yelling at him, and then touching apologizes.
Screenshots:
Download: