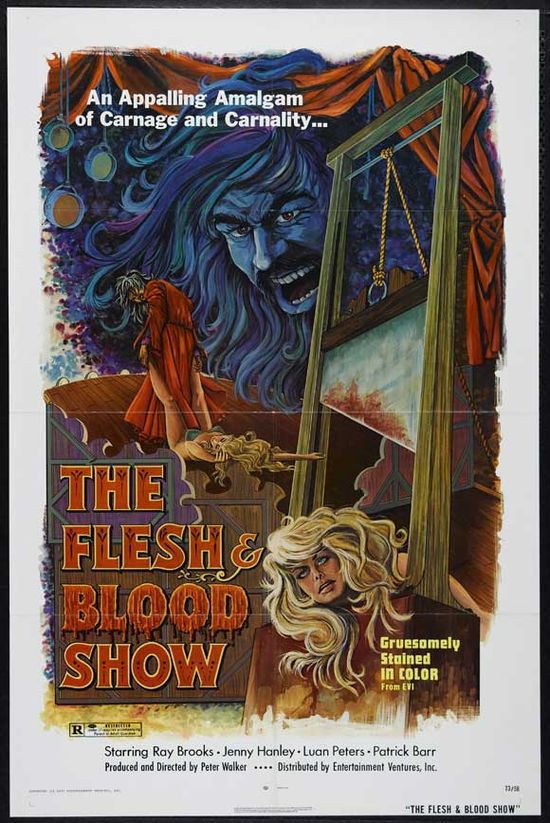 Year: 1972
Duration: 01:36:21
Directed by: Pete Walker
Actors: Ray Brooks, Jenny Hanley, Luan Peters
Language: English
Country: UK | USA
Also known as: Im Rampenlicht des Bosen, Le theatre de l'angoisse, Verinen naamio
Description: A group of actors is hired to stage an improvisational play titled The Flesh & Blood Show.  The show they stage is not the one they expected.  Copious nudity but tastefully done and integral to the plot.  It's a great flick and if you haven't seen it you should take this opportunity to do so.
Here's a charmingly low-rent Brit horror flick directed by Pete Walker, about a movie shoot at a genuinely spooky run-down seaside theater that is tormented by a mysterious killer. Hammer starlets Luan Peters and Judy Matheson get 'em out with gusto, and pretty boy dunderhead Robin Askwith of the Confessions of… series plays a charming, but incredibly stupid actor. What a stretch. There's lots more flesh than blood here, though the last 15 minutes or so are actually pretty damn creepy. My rip comes from the Something Weird DVD-R, which includes the original US trailer, other sex/horror trailers, and a SWV promo reel. The main movie (including the SWV intro) runs about 98 minutes, and the extras take up the remaining 22. Enjoy!
Review: Theatre. Actors, constantly playing on the stage, never change them for anything else. Theatre – this magic, created before acting metamorphoses, the theater is the hereafter, which reflects real life. Mysterious producer hires Director and a group of actors, young and ambitious, for staging a play on the stage of the abandoned theatre. But soon things start to acquire a terrible turn.
Film «Show flesh and blood» of 1972 is the first horror film career Director Pete Walker (Man of Violence and House of Whipcord), who had previously worked in the field of comedies and melodramas. Despite mentioned in the picture theme magic theatre and creative madness, «Show flesh and blood» is a typical thrash horror, abundantly scenes of violence and erotic pictures taken by the operator Peter Jason quite impressive and taking into account the stylistics grindhouse.
Screenshots:
Download: