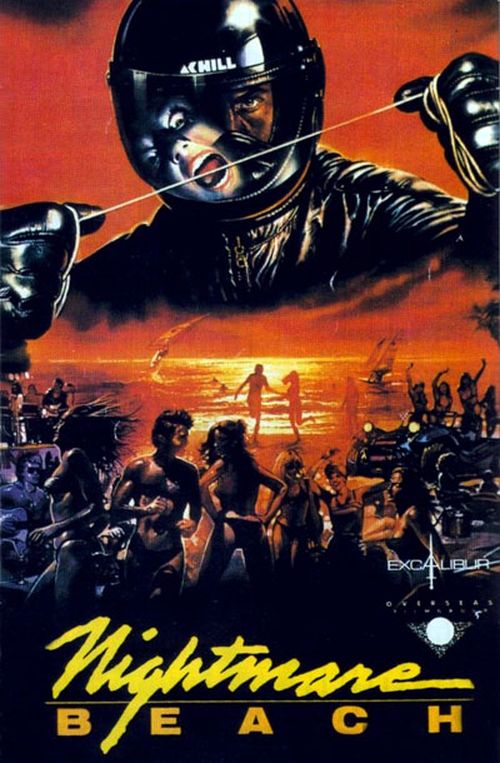 Year: 1989
Duration: 01:27:15
Directed by: Umberto Lenzi
Actors:  Nicolas De Toth, Sarah Buxton, Rawley Valverde
Language: (1) German (Russian Overdub) / (2) German

Country: Italy

Also known as: A Praia do Pesadelo; Kuolema kahdella pyörällä; Nightmare Beach – la spiaggia del terrore; Pesadilla en la playa; Welcome to Spring Break
Description: Two friends come to the resort town, where before was executed the leader of the local group of bikers. The next morning the tomb of executed was empty, and on the streets began to travel in a tight leather biker whose "electrified" the bike brings death to others. One of his friends became the victim of the Ghost Rider, and as the police and the mayor are trying to hide the presence of a maniac in the city, his companion together with the local barmaid starts independent search of the killer.
Review: Umberto Lenzi – certainly not Fulci and Martino. But not Mattei. No icon italohorrora nor treshmeyker. Rather, strong craftsman. In any case, most of the genre films, they say, failed. Lenzi (as Deodato with its "countdown bodies") belatedly reacted to the wave of fashion in the U.S. slasher, but better late than never. And Umberto face in the dirt did not hit: a film shot in America, with American actors (among them – horror veteran John Saxon), and in a typical American-style.
Here, you have to look at. And very bored. A pile of beautiful girls (some of them, of course, to show off their charms in all parts), and a lot of beautiful cars, perfectly conveys the spirit of the beach parties, the sweet taste of the eighties, bouncy hard rock and electronics as the soundtrack (Music – Claudio Simonetti himself!) Finally, the types of the brightest – and, of interest both major and minor characters.
The plot develops slowly and logically, and John Saxon as sheriff clearly decorates the film with his presence. Now, as for murderers and murder. Unravel the identity of the maniac is almost impossible, and death – well, mostly fire and charred bodies, exceptions – strangulation wire and umertvlenie with exposed wires. "Caruncle" – available, except that the level and quality of special effects make-up is not too high …
"Nightmare Beach" – not a cult, a good and entertaining slasher. Sub-genre fans, creativity and Umberto Lenzi italohorrora – watch without fail.
Screenshots:
Download:
Nightmare Beach 1989 (Russian Overdub)