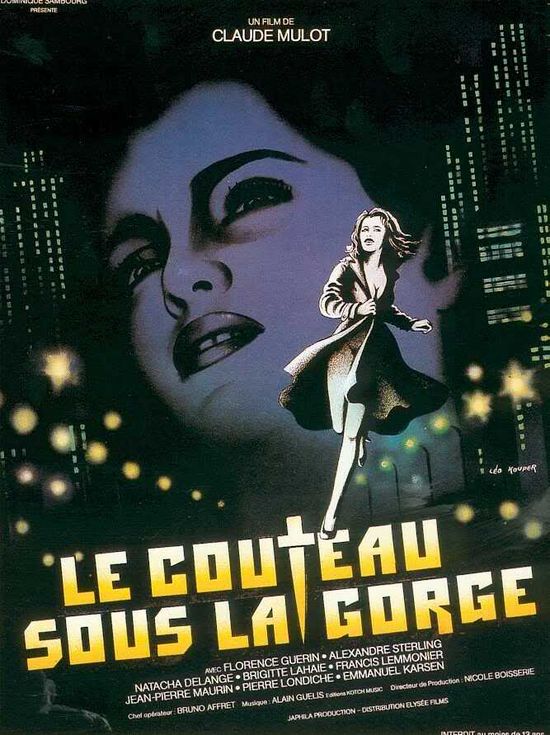 Year: 1986
Duration: 01:17:30
Directed by: Claude Mulot
Actors: Florence Guerin, Alexandre Sterling, Brigitte Lahaie
Language: French (English Subtitles)

Country: France
Also known as: Le Couteau Sous La Gorge, Terreur nocturne

Description: A stalker movie. This time, it's a lovely model who goes through life posing for erotic magazines. While it would be normal for someone in a career like that to have a few admirers, she probably didn't bargain for a maniac to get obsessed with her and devote his entire time to following her every move. "Every step you take, every move you make, I'll be watching you…"

Brigitte Lahaie and the director Claude Mulot wanted to "penetrate" the world of regular cinema and stop any hardcore activities.
This is still a softcore effort, but there was no other (X )version.
Mulot had alredy done a horror movie in 1970, with "La Rose écorchée" but his carrier went quickly into porn, hardcore and he also wrote some bad comedy movies. He didn't have the time to do much more after this one, he died a year later.
Brigitte did a few low bugets movies and many cameos in the porn industry but never returned to any hardcore activities, but she still answers to any questions about her past in the interviews.
She's now the host of her own radio show, about sex of course, but she's the only one of this era to be still famous and respected in France.
Screenshots
Download