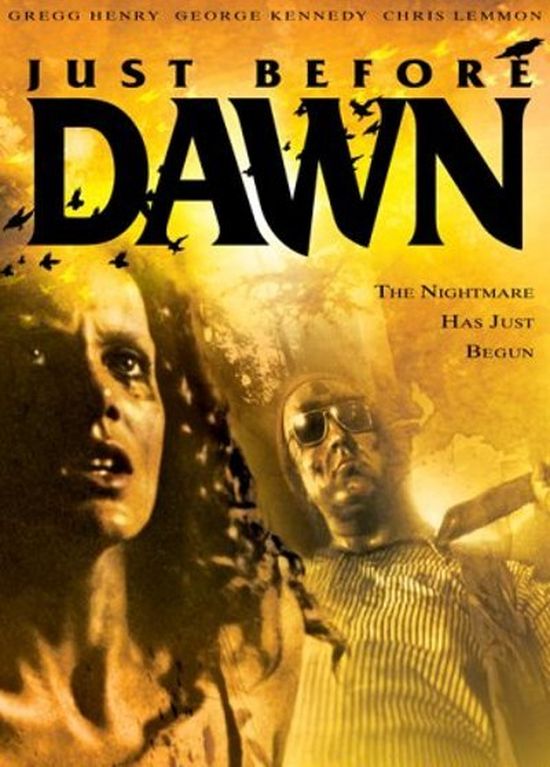 Year: 1981
Duration: 01:40:46
Directed by: Jeff Lieberman
Actors:  George Kennedy, Mike Kellin, Chris Lemmon
Language: English
Country: USA
Also known as: Justo Antes De Amanecer, Blutige Dämmerung, Hasadjon a hajnal
Description: A group of young people in the amount of five people on a journey through the mountains to the rocks. The local sheriff tries to dissuade them from this "unfortunate" venture, but young people, of course, did not listen to him. And as always happens then very sorry about this. In the forest lived two burly creepy twin brothers, armed with a machete …
Review: covered all the quotes from the Necronomicon. Then I discovered that the film of my childhood, "Remote Control" is also filmed Lieberman. And then I found "before dawn." Seems to me, Lieberman earned a pardon. Or at least a short-term reprieve.
You know, I'm just uncomfortable criticizing the tape. Wherever tknesh – A masterpiece, they say. Great movie, they say. Other people say that. But I'm looking – and I see mediocre horror. In another portion of a series of murders, "We are over, think out for yourself", with dosage units of blood and absolutely no special effects. Slightly better than "Final Terror", "Forests" and others like them due to the fact that the killers here much as much as two, the second one dies completely idiotic way. I had ever seen. Take a look and you'll understand.
Or not see, because "before sunset" without losing the battle, "Friday the 13th" and does not even try to fight. The film faded to build a cult around him. Forest atmosphere is just as pleasing to the eye – no better than other similar films, and you know – after watching five to ten consecutive forest slasher like herringbone-penechki cause a strong desire to move the action elsewhere. There are no bright actors (even George Kennedy is a surprisingly gray and dull). There is no belly manyachnye instincts bloody special effects and noticeable characters (the notorious brothers maniacs only stores its immensity yes debilovatym laughter).
And what else is there? Well … about the same as in the infamous "final terror" plus music Brad Fidel. Maaalenky a plus in a monotonous synth drone that chutkouhim remind people of some of the motifs of "Terminator" authored by the same Fidel. So Kennedy. Which is, as we said, very unnoticeable, but most of the other names.
I read the reviews and wonder. See positive people are just so many bright sides in this slasher a gray, threatening to fall into the atmosphere of mediocrity with the face on which it fluctuates. Or am I being unfair … To each his own. A
Screenshots:
Download: