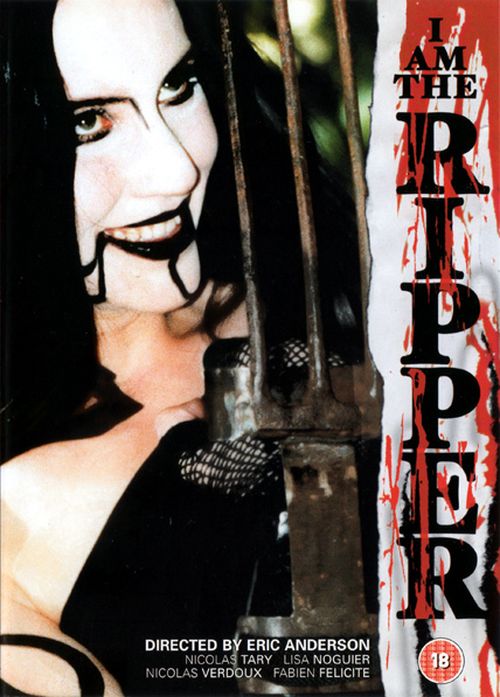 Year: 2004

Duration: 01:33:13
Directed by: François Gaillard (as Eric Anderson)
Actors: Nicolas Tary, Nicolas Verdoux, Fabien Félicité
Language: French

Country: France

Also known as: 
Description: 
The film opens at the party of cool twenty-something Parisian youths while the roving camera jerks rapidly between them as each character is briefly introduced (freeze-framed and name tagged in the manner of a Tarantino flick) as characters bicker over whether Alien or Predator is best. As the hottest girl at the party browses a volume of EC comics she is sharked by a muscular guy who she rejects and goes in pursuit of the skinny comic book guy (as of course all hot girls really do in real life).
The ever restless film rapidly moves on with the rapid arrival of a hooded skull masked ripper who begins to work his way through the isolated victims in a hyper kinetic rapid-fire edited death scenes (they haven't even finished introducing the characters at the party and already they are being killed off). The ripper having claimed two victims is seemingly bored of the snuff them one by one tactic so just goes into the living room where everyone has congregated and rams his blade through one of the characters heads. The rest of the partygoers flee and only the muscular guy remains who challenges the killer to unarmed combat and bang! – he drops his blades and they go at it but the masked killer (being a kick ass martial artist as well) wins (stabbing him anyway).
Back to the other party goers (whose names despite being told then a few minutes ago you will have already forgotten) elsewhere in the house. In a state of panicked distress they begin to bicker amongst themselves which leads to the mental psycho boxer looking one brutally beating a girl up after smashing a dumbbell into her face who violently tussles with some of the others who attempt to restrain him. Then they realise that the hottest looking girl has been left behind and decide (it being at this point a slasher movie) to split into two groups and go looking for her.
When they find her she's been possessed (or something) and stabs a pen into a girls neck. Meanwhile the other group encounter the masked killer who punches his fist through someone's head then pulls double pistols and it all goes full calibre JOHN WOO. The blokes from the other group (who have all become martial artists) kick and punch the crap out of the hottest looking girl who is possessed (or something). Now the masked killer pulls a shotgun from under his robes and then everything goes ABSOLUTELY FUCKING MENTAL (well even more so) with pretty much everyone shooting, stabbing, punching kicking and head butting with blood and the odd limb flying all over. Then (as you must already expect) some superfast zombies pop in through a fiery gate into hell and eat some of the remaining partygoers.
Soon there is only one remaining survivor (the skinny comic book guy) who the masked ripper, that claims to be Death (and probably is), inexplicably challenges to a wrestling duel in 24 hours time.
So anyway he goes home in a panic and decides to watch some telly – a trailer for an action film made with boys action toy dolls and a protracted scene of a raven haired girl with large breasts cavorting in her underwear and removing her bra (CG members may cheer now) but Death spoils his (our) fun as he pops into the TV picture stabs her and addressing the camera tells him to stop watching rubbish (or is he addressing us at this point?)
He leaves his house and goes into the street a crowd gathers round him as he puts a gun in his mouth and pulls the trigger – – – and then the film (at thereabouts the half way mark) gets even wilder and weirder as it seems not everybody from the party is truly dead as some of them have been taken on by Death as post-dead assistant assassins who also seem to be partial to randomly going postal in the street and gunning everyone around down for no good reason.
This is all explained to the skinny comic book guy who, now dead, is also being recruited (with the promise of access to hot chicks). Only there is a catch – as an initiation he has to kill his new girlfriend the hottest girl at the party (who WAS possessed – and somehow has survived)
The action packed story continues at breakneck pace leaping from one over the top action sequence to the next – from brutal fist fights to John Woo bullet ballets to kung fu swordplay to mystical powered martial arts bouts to live action anime beat em up ko's. It's wonderfully absurd and after watching the film you will probably be exhausted and need to lie down for a nap.
Screenshots:
Download: