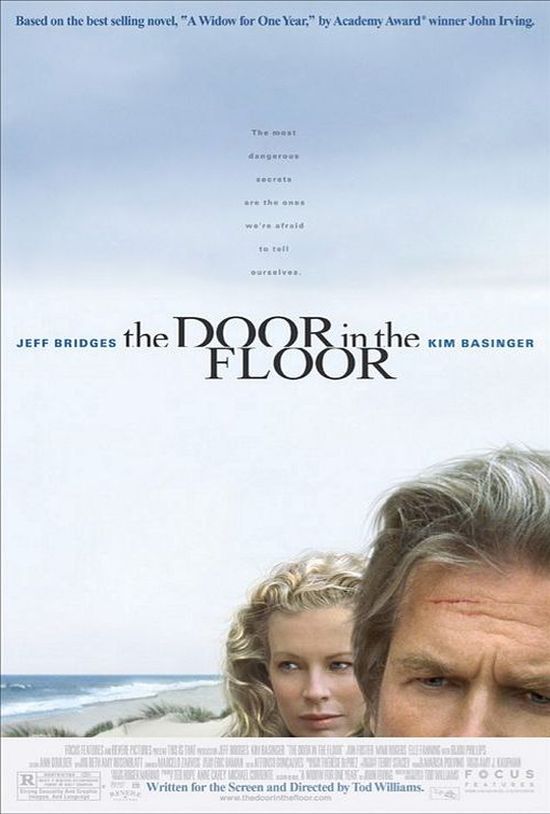 Year: 2004

Duration: 01:46:16
Directed by:  Tod Williams
Actors: Jeff Bridges, Kim Basinger, Jon Foster, Elle Fanning
Language: English
Country: USA
Also known as: Die Tür der Versuchung, La Trappe dans le plancher, Lignes de vie, The Door in the Floor – Die Tür der Versuchung, Дверь в полу
Description: Could that day Cole family know that an innocent desire to ride in a car will turn their whole world upside down. Screeching brakes, grinding iron, death cry … In a terrible car accident, Ted (Jeff Bridges who also played in Lolly-Madonna XXX) and his wife Marion (Kim Basinger) lost two sons, but in the disposition of the fate both of them stayed alive.
Review: The film "Door in the Floor", like they say, is not for everyone. To some it may seem fucking boring, for someone – too serious, someone – a far-fetched. And all will be right, as in the famous joke.
I was impressed by the film. But he did not impress its own story, rather wacky and fabricated, in my opinion, and performances by the cast. Moreover, not only grants Basinger and Bridges, and the young Foster. The actors were able to convey the pain, the loneliness, the one remote from each other, which bites deep in the heart and memory.
All non-verbal gestures and scenes here have a meaning, which helps to understand the unusual setting picture. The scene in which the characters Basinger and Bridges silently forgiven, so amazing, colorful and sad, which causes the heart to contract.
Liked the short, but very tasty made ​​sex scenes with Basinger. Indeed, I wonder what she was feeling, passing them with a young actor?
The film is called, one at a time. But to look exactly worth it. Just enjoy the beautiful actor playing …
Screenshots:
Download: