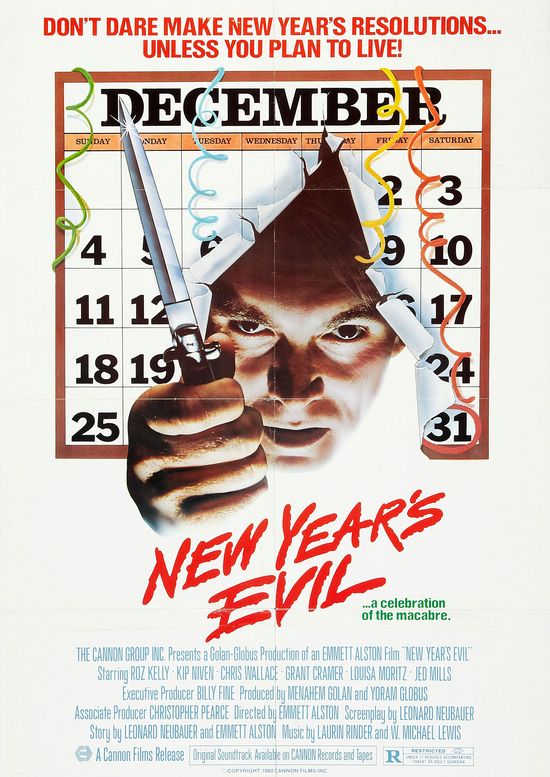 Year: 1980
Duration: 01:25:32
Directed by: Emmett Alston
Actors:  Roz Kelly, Kip Niven, Chris Wallace
Language: English
Country: USA
Also known as: Reveillon Maldito, Teuflisches Neujahr,  Fin de año maldito,  Dodici rintocchi di terrore,  Rocknacht des Grauens
Description:Slashers production MGM is something special, not describable or explicitly excellent from all the other classic slashers. Suffice it to mention «He knows that you are alone». The film was mostly psychological Thriller than a full-fledged slasher, however, it is characterized by good preparedness of the main characters and an intriguing plot with its unexpected twists. Less well known is slasher production MGM – «new year's evil», but, interestingly, it was released in the same year as the recognized classics of the genre of the film «He knows that you are alone».
Consider the «new year's evil» is very interesting, because it really is quite unconventional slasher. To be honest, in a certain aspect, not even want to think his slasher, much of the film went from classic thrillers and detectives. It's like the movie «When a stranger calls» (1979) – is a classic slasher, but the massacre didn't smell. Yes, in the «New year» bad, " there are young people, there is nudity, there is a maniac and a murder. However, the movie is not memorable deaths – even the final death which I, of course, say nothing, not once met in other films, albeit not the slasher genre.
Interesting thing: «new year's evil» has strengths that, as a paradox, are weak sides of almost any classical slasher. For example, in the film, there's a quality soundtrack cheerful rock-n-roll, which warms the soul during all viewing. But it is not important, as in the «New year»bad, " you will not believe there is a really interesting, unusual for the genre and simply brilliant story!
Screenshots:
Download: