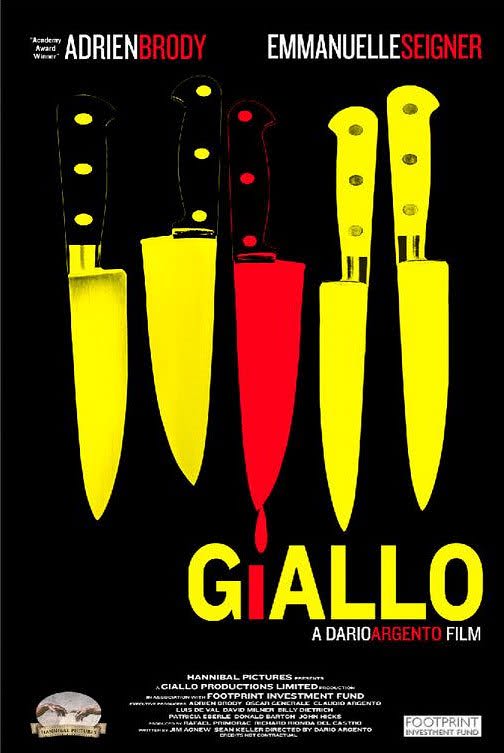 Year: 2009

Duration: 01:32:19
Directed by: Dario Argento
Actors:  Adrien Brody, Emmanuelle Seigner and Elsa Pataky
Language: English
Country: USA
Also known as: Agria katadioxi, Giallo – Reféns do Medo, Giallo/Argento
Description: A young girl waits on the edge of a dark road. A man by car decides to stop to take her. At this precise moment, the young woman does not still know with whom she is but her life will be fast upset. Which secret thus hides the face of this man: hallucination, schizophrenia or machination?
Review: Any and all fans of classic giallo films knows the name of Dario Argento (Tenebre and The Card Player). Some of his films, really become a cult (Demons 1-2, Trauma, Phenomenon), though, and look at the present time is a little outdated, so to speak. But I always liked his movies, so it's the atmosphere, and this film is no exception.
That we can contemplate in this film: a maniac, whose identity is not, in principle, almost hidden, ill congenital hepatitis (jaundice), and hates all that is beautiful and elegant, especially young beautiful women. Kidnaps and kills them, disfiguring them before. The film has some pretty tough scenes that impressionable people better not to look. The plot is on the one hand banal, the other original. Not without shortcomings. But in general, easy to watch with interest. But most importantly, keep the atmosphere of suspense. The ending, as always, in the spirit Argento.
Screenshots:
Download: