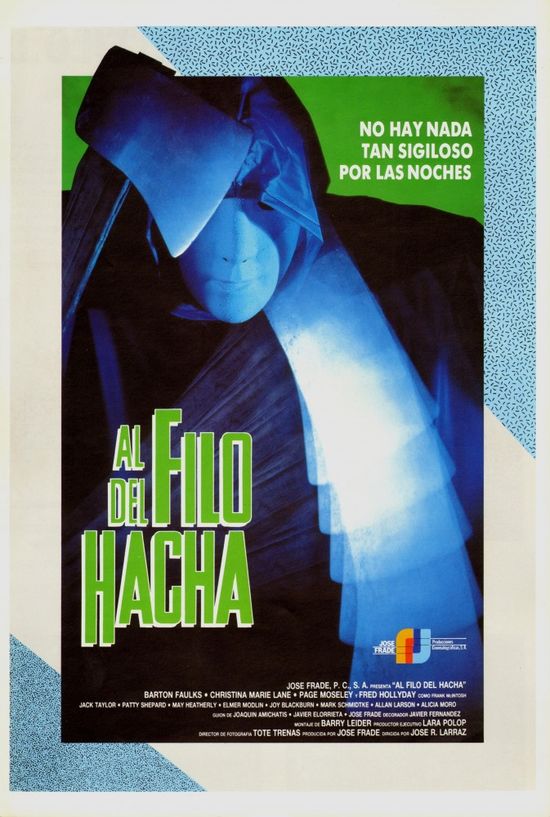 Year: 1988
Duration: 1:31:07
Directed by:  José Ramón Larraz
Actors:  Barton Faulks, Christina Marie Lane, Page Mosely 
Language: English
Country: Spain | USA
Also known as: Al filo del hacha, A Beira do Machado, Patienten, Sti lampsi tou tsekouriou, Pasienten, Axolution – Tödliche Begegnung, Edge of the Axe

Description: Jose Ramon Larraz's attempt at an American-style slasher   As far as slashers go it's fairly stylish (and brutal), but Larraz fans shouldn't expect too much of the bleakly unique style found in his erotic films. 
José Ramon Larraz was no stranger to beautifully photographing beautiful women in the 70s. He crafted artsy, erotic sleaze, everything from serious chamber dramas with lots of sex (Symptoms) to over-the-top vampire epics with lots of sex (Vampyres). All of his films placed female characters front and center, often without their clothes on. But that was then. By the 80s, Larraz's sense of style had vanished, along with his interest in filling horror films with boobs and bush. Following the similarly-constructed-yet-completely-dull Rest In Pieces, Edge Of The Axe is a boring, unin-ventive slasher with a unique hook. Namely, the ladies in this movie find computer terms such as "memory logs" and "central terminal" to be intensely sexy.
We have entered the forests of Northern California. A killer, clad in a Michael Myers knock-off mask and a rain slicker, enjoys hacking people and animals to death with a shiny axe. He also hangs around a car wash. While that's happening, two guys (one computer expert, one exterminator) drive around. Both of them repeat jokes. One follows a punch line with, "You can say that again!" And then he does. The computer wiz has invented e-mail and the Internet, and his computer talks of its own free will. He installs a computer in his new girlfriend's house. She's also a member of the world's worst church choir. Meanwhile, the killing continues. A woman weeps about bankruptcy and her younger, cheating husband (the exterminator). None of this ties together.
Edge Of The Axe is a series of casual contradictions. MIDI country rock mixes with 80s hip-hop. Realistic kill scenes alternate with boring scenes on a speedboat. The sheriff (mid-sized, not fat) flubs his lines and mumbles instead of saving the world. Larraz shows off his old stylish eye whenever the killer shows up (creative camera angles, colored lights), but he tends to play it safe everywhere else. While nobody has sex, the girls do deliver a flurry of computer innuendoes. "You can jog MY memory logs any time!"
Screenshots
Download