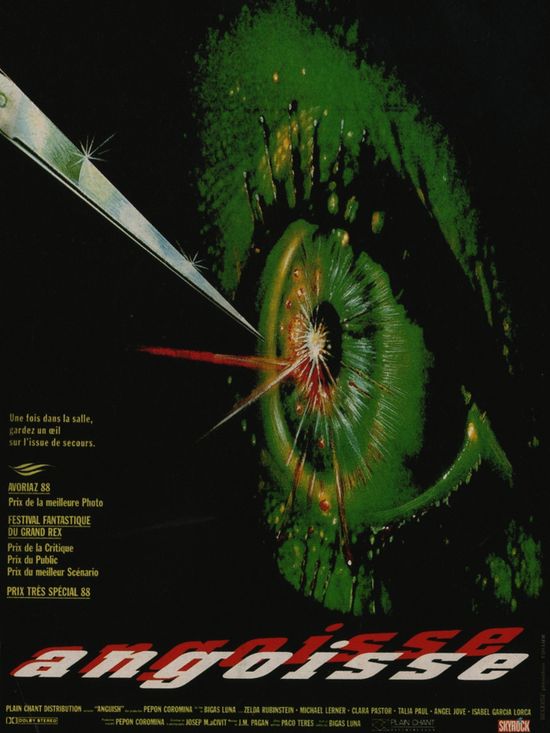 Year: 1987
Duration: 01:27:54
Actors: Zelda Rubinstein, Michael Lerner, Talia Paul
Language: English
Country: Spain
Also known as: Angustia, Im Augenblick der Angst, Angoisse, L'angoscia
Description: One of the strangest and most memorable horror movies out of the 80s, Anguistia has recently been issued on a gorgeous DVD from Blue Underground.  A surrealist art film or blood soaked thriller…whatever it is, it's definitely a highlight of my DVD collection and a film I highly recommend for anyone who likes scary movies with strange twists.
John Pressman is a fat man who is sick with with diabetes and gradually losing sight, employee of one ophthalmic laboratory. One day he carelessly inserts contact lenses into the yeys of a rich. She screams in pain and throws them. His chief suddenly appears and gives him a reprimand. Frustrated John returns home to his mother Alice, with whom he lives. He hypnotizes her son with the words "All eyes in our city should be our" and John in this state goes to the house of the woman, because of whom he was nearly fired from his job.
John tells her that he regrets his deed and asks to let him in the house on the pretext that he has brought a new lens. The woman's husband, John admits to the house where he killed two people and carves their eyes. At this time, we learn that the story of John and his mother has just the movie, which shows in a movie theater in Los Angeles. Among the spectators there are two young girls, Patti and Linda. Patty did not like the movie, and she wants to leave, but Linda refuses. Patty gets nervous, it is visited by bad thoughts about the man sitting next to her …
Anguish is one and the most scary movies 80s and European cinema in general. Bigas Luna has created an unsurpassed example of this intense and frightening film. For which many thanks to the undisputed classics of European cinema.
A small review/plot: "In a movie theater people watching a horror Anguish, which is about to lose his sight gradually impressive size "boy" maniac-ophthalmologist Johnny (Michael Lerner) who, under the hypnotic influence of his strange mother (Zelda Rubinstein) is killing people and carves their eyeballs. The film is about a bad "bad boy" John and his mom crazy with all the cinema and watching as two friends – Patty and Linda. And while one of the girls delighted with the film and with pleasure "listens" screen violence, her friend is in the opposite condition – it is bad, it starts paranoia and auditory hallucinations caused by the hypnotic component of the film Angustia which was made in 1987. Which indeed acted not only to her but to the very real maniac killer (Angel Hove). For him, the film becomes a source of inspiration, and at a certain point it starts to act in accordance with the instructions of "mom" ​​with a screen shot the theater staff, is taken as the trapped them in a movie theater unsuspecting viewers."
Screenshots:
Download: